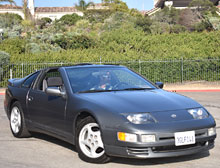 1992 Nissan 300ZX Twin Turbo
Charcoal Perl
(code KH2) over gray. California car from new. Factory 300 horsepower T-top twin turbo road rocket.
105K miles. Fresh $3,600 service.
$23,500
Have a Closer Look
For Our Latest News and
Updates on Our Inventory
Subscribe to Our Bulletin
Head over to our
We are always on the lookout for new Inventory.
For More Information, CLICK HERE.