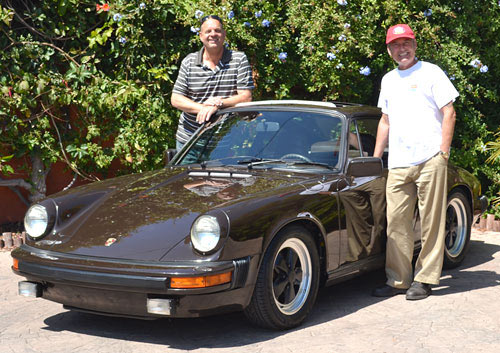 Californiaclassix is a well established, licensed and bonded vehicle dealer in the State of California. Californiaclassix emerged early in 1999, when the Internet, still in its infancy, opened its gates to a whole new world. Right from the start, our offerings of 100% rust free California cars were welcomed by enthusiasts and collectors all over the globe. What started as a hobby became a sideline and eventually grew into one of the most cherished classic car collections in Southern California.

In the year 2000, our small shop in Canoga Park was complimented by a number of garages in Santa Barbara; in 2003 we opened our first showroom on Everglades Street in San Buenaventura. Then, early in 2008, we consolidated everything and moved to our property on Sunnyway Drive, into a charming 1960s-period building, conveniently located close to historic downtown Ventura. When Bill by the end of July 2020 decided to retire, we sold our property and with Bernard carrying the torch alone, downsized to our current location on 1505 Palma Drive in Ventura.
---
Californiaclassix is the creation of two guys who have managed to keep their passion for cars alive: Bill and Bernard. Bill is the face behind Californiaclassix ; Bernard is the invisible one, the man in the background. What they both share is their love of classic cars and motorcycles, creativity, perfectionism, and high ethical standards.
---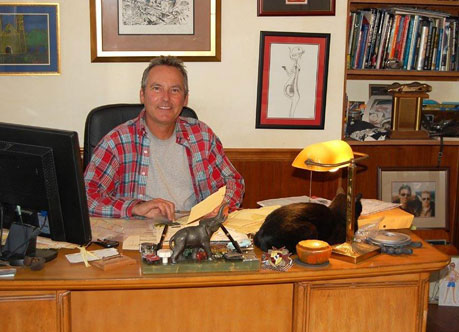 Bill - born in Hamburg, Germany, his fondest childhood memories revolve around cars, from riding in the cushy front seat of his Dad's '55 Opel Kapitän as a 3-year-old, to collecting car-related magazine ads in kindergarten. During high school, he started to buy and sell vintage cars, working his way up from a Lloyd Arabella and Ford Taunus to Dodge Dart and Cadillac Coupe de Ville before he even turned 20.

Inspired by the quintessential road movies American Graffiti and Two-lane Blacktop, Bill visited his dream country, the U.S.A., in 1977 and quickly shipped a '59 Chevy Impala and a pair of tail-finned Cadillacs back to Germany. A few years later, he moved to Southern California for good.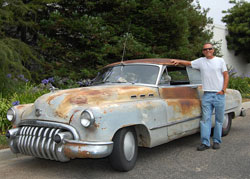 Always on the hunt for another barn find or survivor, Bill estimates that around 3,000 classic cars went through his hands in the past 40-odd years.

Now retired, Bill likes to read (about cars, of course!), watch old movies, and explore remote desert highways in his vintage Sportsmobile camper van. Between May and November, he's active in Land Speed Racing, holding numerous Land Speed Records He's a life member of both the El Mirage and Bonneville 200mph Clubs and resides in beautiful Santa Barbara.

---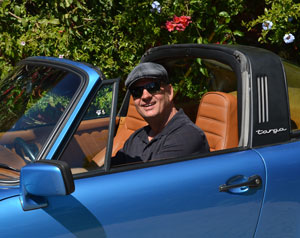 Bernard - originally also from Germany, moved to sunny Southern California a quarter century ago. He, too, has been a car guy all of his life, and owned quite a few unusual vehicles throughout the decades. His first car was a 1960s NSU Prinz 4, which -- powered by a 30hp 2-cylinder engine -- allowed rather stressful freeway travel up to about 50mph. He drove a 1958 DKW 3=6 "turtle," powered by a 40hp 2-stroke 3-cylinder, as a daily driver when modern cars where all the rage. He owned a BMW 700 Sport Coupe, an Opel Manta GTE, a 3-seater Matra Baghera, an ex-hill-climb NSU TTS, a top-chopped Mini Cooper S, a Max Wedge-powered 1962 Plymouth Belvedere, a Cadillac Paris convertible, and has driven more classic cars than he can possibly remember. One of his daily drivers for over a decade was a heavily patinated 1962 Volvo PV544.

Bernard also likes things on 2 wheels. He owns quite a few eclectic bicycles from days' past, two 1960s Lambretta 2-stroke motorscooters, and a couple of interesting vintage motorcycles. He had his own column in Street Magazine, was a private pilot, a race car driver, and now enjoys playing tennis in the Ojai Valley where he resides with his wife Tracie, their Jack-Chi Lily, Jack Russel Jasper, and their old shop cat Oilfoot.
---
Today, we have countless customers throughout the States and in numerous countries around the world. Many of our cars are shipped to Europe, mostly Denmark, Sweden, the United Kingdom, Germany, the Netherlands, France, Spain, and Italy, but we also have customers in Canada, South America, Japan, and down under, in Australia.
Quite a few of our customers are classic car dealers who have become repeat customers; some of them we consider friends. Every single one of them we owe gratitude for trusting us to send them cars that are every bit as nice, or better, than they were hoping for. Our customers and their referrals are the reason for Californiaclassix' continued success and the most valuable asset any business can have, something we will never forget.