As you all know from our Hall of Fame, we've owned thousands of classic cars during the past 2 decades, some of them unique in the true meaning of the term. One of the most exciting cars of them all is a Ford Model T, the very car that helped Americans to transition from the horse to the car. Unless you've driven a Model T, you can't possibly imagine how exciting it is!
For starters, the three pedals on the floor are not what you think they are. The left one, pushed all the way down, is first ("low") gear. All the way up, it's second ("high") gear. Neutral is somewhere in-between down and up. Seriously!
The pedal in the middle is not the brake, but reverse gear. Yep. You push it down, and the car changes direction. The right pedal is not the gas, but the brake. The throttle is usually on the right of the steering column, and to the left, where "normal" cars have their turn signal switch, you'll find the ignition advance.
Now tell me that driving such a car sounds boring to you!
Truth being told, a Model T is quite affordable, and easy to live with. You'll get thumbs up wherever you make an appearance, and most things can be fixed with a hammer, a set of pliers, and a piece of barb wire.
My (Bernard) personal favorite would be a Roadster from the "black" period (that followed the brass cars), so 1916 until 1927, as it's the proverbial Model T. Hey, that's what Jay Leno chose! About $10K should buy a fabulous car that's ready to be enjoyed.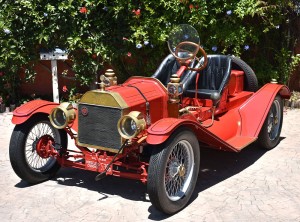 Photo above shows our 1915 Ford Model T "Brass" Speedster.