Designed in the early 1930s by Professor Ferdinand Porsche, the Volkswagen, German for "people's car," was minimalist in its very essence and cheap enough for the working man to afford. Nicknamed the Beetle, it broke the Ford Model T's long standing record as the car with the highest production numbers. In the 1960s, you'd saw more Beetles on Europe's and America's roads than any other automobile. E-v-e-r-y-b-o-d-y had one, and their neighbors as well.
A few decades later, now finally a plain Beetle has been valued at close to a quarter million dollars. A '46 KdF Beetle in condition 2+ was bid to $220,000 (plus 10% buyer's premium) at auction, but the seller felt the car was worth more, and took it home.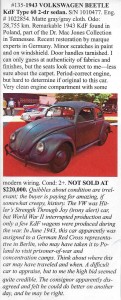 Lately we've seen several 1950s Beetle Cabriolets reach and surpass $50K, and a middle-of-the-road '60s Bug that you could purchase for $5K just a few years back is now costing twice as much. So it's true: time is money, literally.