Opposed to our bigger is better philosophy here in the United States, the Europeans believe that good things do come in small packages. Visit any European city today and you will encounter a plethora of compact cars you've never known to exist. There are Mercedes Smart Cars and A-class models, VW Lupos, Ford's Ka, and various little Alfa Romeos, Fiats, Peugeots, Lancias, and Renaults. Of course, thousands of venerable Austin Minis zoom around, too. Gas-guzzling SUVs and pickups? Nope. Nowhere to be found. Not one!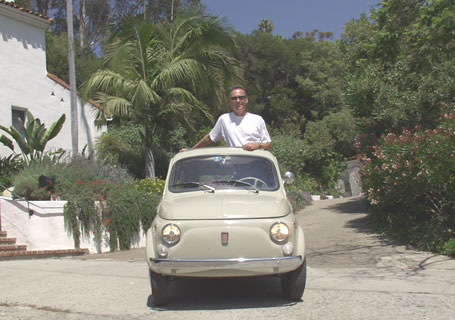 Traditionally, Italy has always been the leader in creating beautiful, frugal family cars, able to zip through ancient Rome's smallest cobblestone side streets and park upright, if necessary. A Fiat Cinquecento, "five-hundred" (due to its engine capacity in cubic centimeters) is as Italian as Cappuccino, Amaretto, and the magnificent Pavarotti performing at the Grand Opera in Milano. Built between 1960 and 1978 and available in various body styles, there is one model that stands out among its peers: the Giardiniera ("gardener").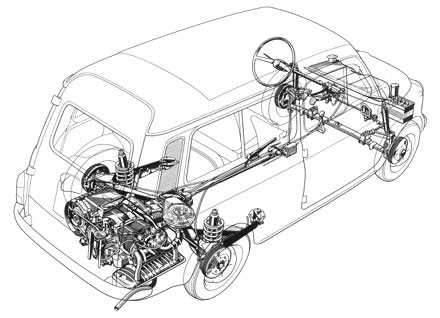 Of breathtaking versatility, the Giardiniera surely qualifies as the most utilitarian and, at the same time, one of the most fun-to-drive microcars around. Built on a Fiat 500 chassis with a 4-inch stretch, it sports many unique features, setting it apart from the garden variety sedan. Ingeniously, the little rear-mounted engine was turned on its side to help create a perfectly flat cargo area. Bigger brakes (from the Fiat 600) were installed, and a beefed-up suspension to handle heavier loads. No need to take the SUV, next time you scoot to the Megamarket to buy the family groceries for a month. Fold down the rear seat, and the Giardiniera will swallow amazing amounts of stuff !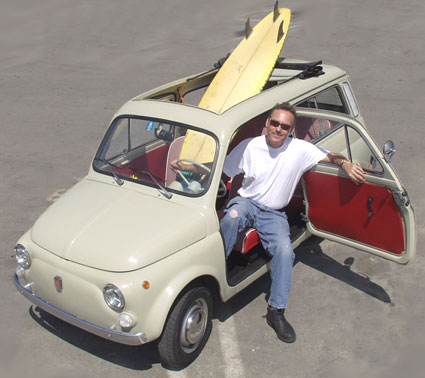 Fiat 500 pilots usually look very happy. Let's find out why . . .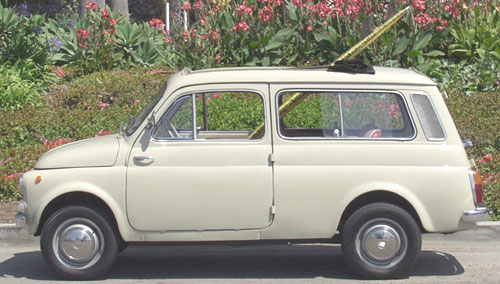 Dubbed "the World's smallest surf wagon" here in California, this nicely restored example of the ultra-collectible Giardiniera mini car truly is a people-pleaser. Note the rear-hinged "suicide doors."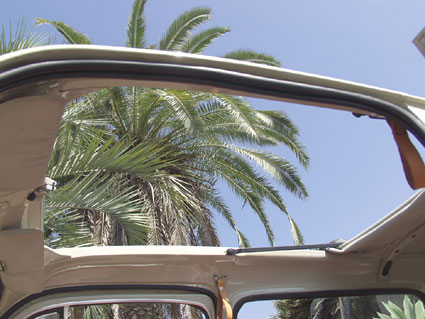 The Cinquecento is an open car, a very open car, actually. Pull back the full-length fabric top on a sunny day (it takes but 5 seconds), and you instantly experience the wonderful feeling of driving an exotic convertible along the shores of Lago Maggiore!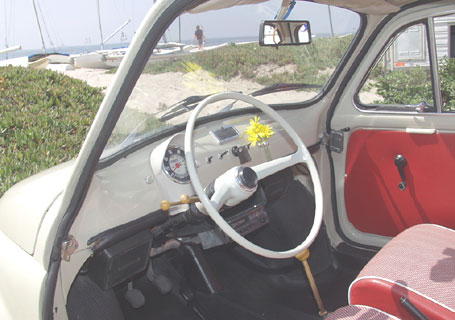 Click on the above image for another image, showing the dashboard from another perspective
The wonderfully austere dash contains everything one will ever need in a car!
There is a Cyclops binnacle housing the speedometer, a switch for the lights, one for the windshield wipers, and--most importantly--space for the optional bud vase. Everything works flawlessly, even the interior lights!
The floors are covered with--supremely preserved--original black rubber mats throughout, which can be removed within minutes come spring cleaning time.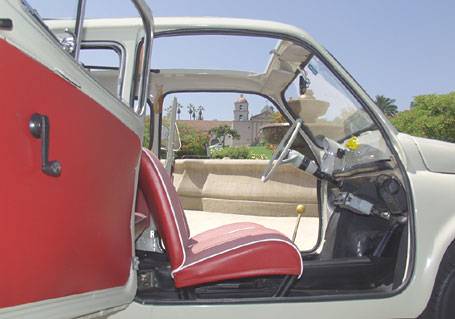 Click on the above image for another image, showing the front seats from another perspective
Large doors open wide, revealing a peek of Santa Barbara's famous mission. Since the additional 4 inches in length benefit the front passenger area, even the tallest American will fit easily behind the wheel. You're 6'5"? No problem, the Giardiniera can handle it, and there'll even be room left for the folks on the rear bench!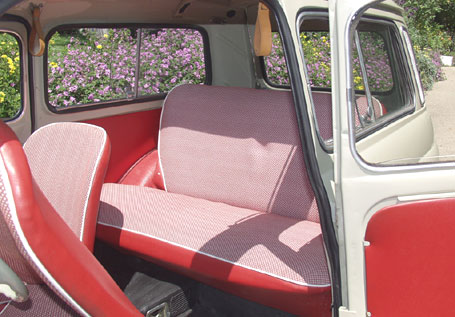 While the doors feature large vent windows and roll-down side glass, the rear passengers can enjoy sliding windows. The Italians, used to hot summers, really know a thing or two about ventilation. Should it get cold, though, small, adjustable heater outlets on the floor--barely visible above--deliver some warm air.
Authentic red-and-white vinyl and fabric upholstery is in excellent condition. It's just like being home, in Bella Italia, back in the Sixties. Close your eyes and you might visualize swarms of Vespa and Lambretta motorscooters humming by . . .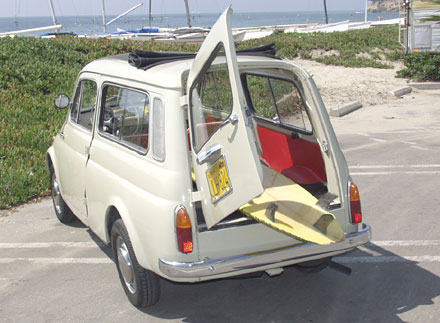 Click on the above image for another, larger image
Large, refrigerator-style third door of the 'Italian Bel Air Nomad' opens wide to reveal the cargo area. Even with the backseat in place, there's plenty of room for pretty much anything and everything. How can a car be larger on the inside than on the outside?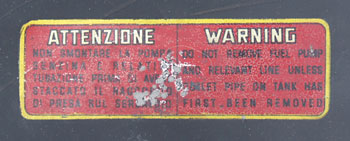 So where's the engine?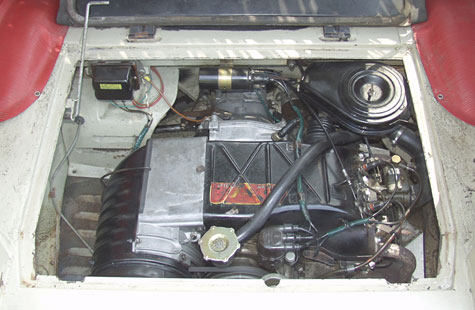 Click on the above image for another image, showing the engine from upclose
Unlatch and lift up a panel in the rear, and the 18hp, 500cc air-cooled, four-stroke, parallel twin is revealed. Everything looks neat, dry, and tidy. Having covered only 47,000 original kilometers (less than 30,000 miles) and having always been serviced at factory-prescribed intervals by its meticulous Swiss owner, this tiny power plant is a picture of health. Furthermore, mechanical spares are plentiful and extremely inexpensive, if needed. How about a new wheel cylinder for $5, or a master cylinder for $15? Driving a classic car does not have to be expensive. Incidentally, Fiat recommended the first overhaul of the dwarfish 500 motor at 80,000km (50,000 miles). Quite an achievement in engineering, I'd say!
With rear-mounted motorvation, what's under the hood, you may ask?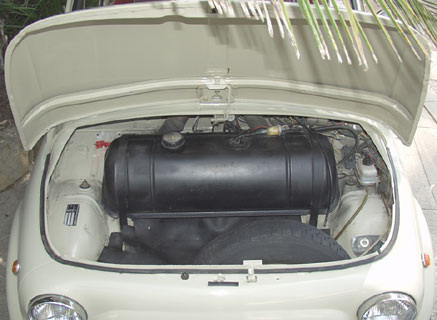 Another trunk!
Neatly containing battery, spare tire, tank, brake and windshield washer reservoirs, there's still some room for odds and ends. Every inch of the Giardiniera can be put to use.
Fantastico!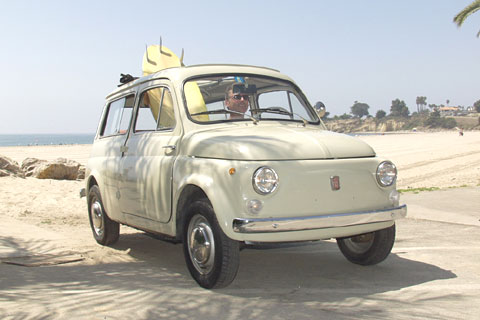 Ready to go surfing in style.
Giardiniera even features a modern stereo cassette radio, mounted below the dash. Bring your favorite Beach Boys tape and let's go!
(Vintage surfboard courtesy of BeachHouse, Santa Barbara.)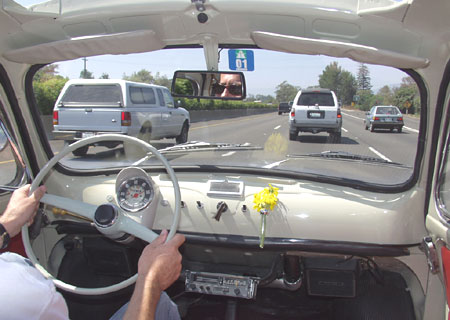 Click on the above image for another, larger image, showing a close-up view of the instruments
Believe it or not, this little Fiat runs with the big dogs on the Freeway! If you look closely, you'll see the speedo needle pegging 100km; that's 62mph! With its floor-mounted shifter for the 4-speed tranny, big brakes, and excellent suspension, this car conveys a thoroughly modern driving sensation. It's a timeless Classic, still passionately used in Italy as daily transportation, and nonetheless ready for 21st Century traffic. New York City, here I come . . .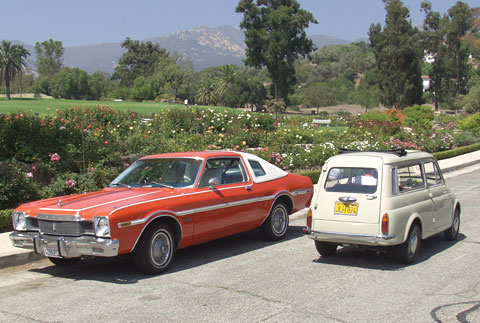 What a great little car!
Let's check it out closely, shall we?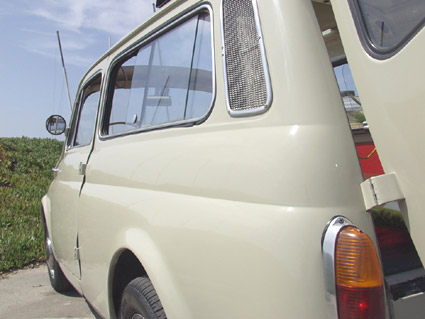 We purchased the little wagon earlier this year in Santa Barbara from a Swiss gentleman, who drove it on a daily basis while studying languages at UCSB. Once a master mechanic by trade, he serviced the Cinquecento religiously and kept it in amazing condition. The little Fiat was perfectly healthy, rust free and clean, but--naturally--had acquired a few signs of use during the years. Since the car was a true survivor, we decided to invest in an expensive repaint in its original grigio beige color, which looks exactly like the Caffe Latte served in Rimini's famous Ristorante Fionissimo.
The car was completely taken apart and professionally painted. After a curing period of several weeks the paint was color sanded and hand-rubbed and finally polished to mirror-like perfection. We took all the time in the world to re-assemble the Fiat and--all kidding aside--we had tremendous fun doing even that! All in all, we are very pleased with the result and are confident you will be, too.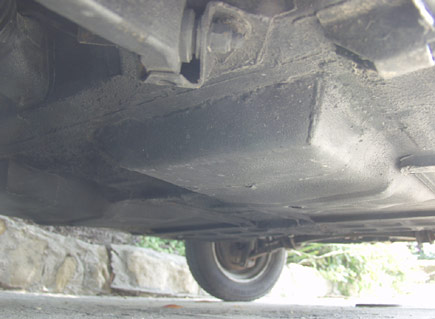 However, even more important is what lies beneath the shiny surface. Often badly rusted or haphazardly patched, here you will find a perfectly healthy and rust free undercarriage!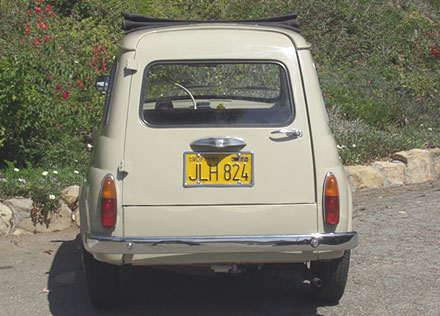 So here it is: a prime example of Fiat's wonderful Cinquecento. Versatile like no other little car in the World, this Giardiniera is as healthy as a world-class athlete, as beautiful as Gino Lollobrigida, and needs absolutely nothing but a new, loving home. The Cinquecento is destined to win a trophy at the next Concorso Italiano or any other car show you might have in mind. It's that good.
Most importantly, though, driving the 500 will put a smile on your face. You can't put a price on happiness, and this Fiat will make your day a happy day, every day, guaranteed!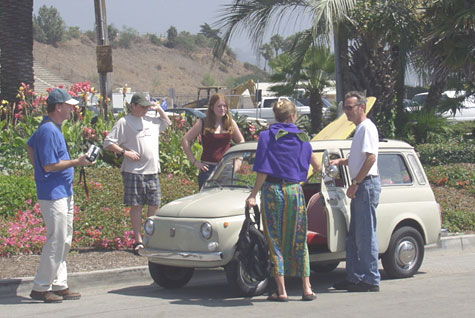 If you are ready to be the center of attention wherever you show up with the Giardiniera, and are also ready to become a foster parent to a new family member that everybody will love, this little car might be for you!