Once in a blue moon a remote garage, storage barn, or nondescript warehouse yields a true example of the Southern California car culture. It may be a forgotten surf woody, a dusty fuelie Corvette or an old Lloyd-bodied Sixties gasser.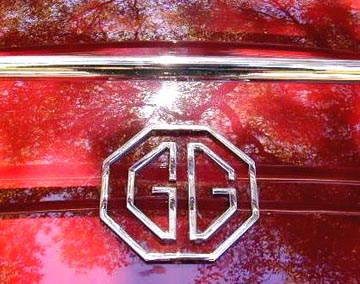 To find an old British Roadster, modified way back when to compete in the fabled Mulholland Grand Prix, will send shivers of excitement down the spine of even the most jaded enthusiast.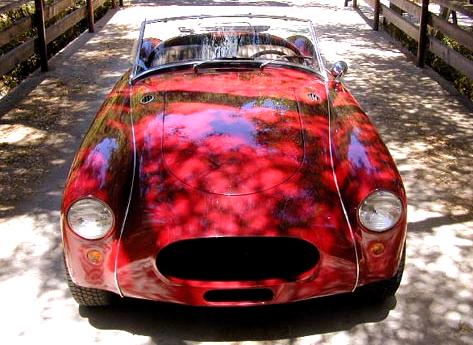 Meet the Gyro Gearloose Spl.! Now lovingly refurbished, it is a sports car like no other.
Based on a 1961 MGA disc-brake Roadster, it actually resembles a 289 AC Cobra more than anything. In the early Sixties, it was all the rage to stuff potent American-made V8 engines into lightweight British Roadsters, thereby creating unbeatable street & strip performers. Remember the Sunbeam Tiger?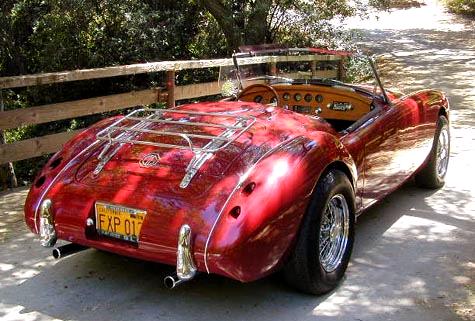 Originally built by a young engineer nicknamed "Gyro Gearloose" for his uncanny ability to fix anything, the GG Spl. could often be seen around the San Fernando Valley in the late '60s. On Wednesday nights, it made the trek from Van Nuys Blvd. up to Mulholland, to flex its muscle against the likes of Steve McQueen in his legendary Jaguar XK SS.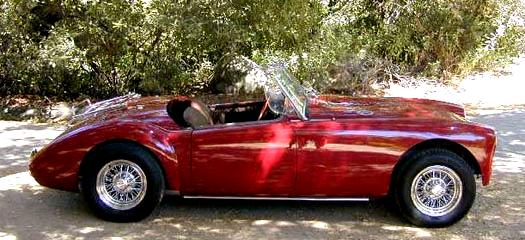 Almost three decades later, the car surfaced in the Santa Barbara area, where it was sympathetically restored inside and out, close to its 1960s appearance. Being a California car since new and a carrying hoods and doors made from aluminum, GG's body had always remained rust and accident free, with perfect panel fit and door gaps, and did not require any work beyond a quality repaint.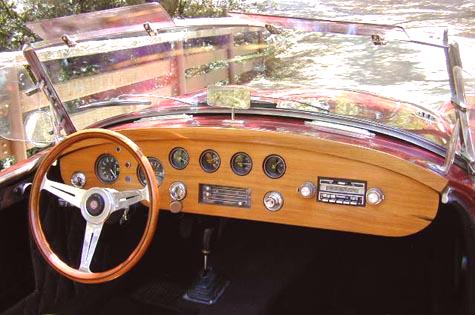 Custom-made hardwood dash sports a full array of period STEWART WARNER gauges. The beautiful wood steering wheel with polished aluminum spokes is an original, signed, vintage Italian NARDI.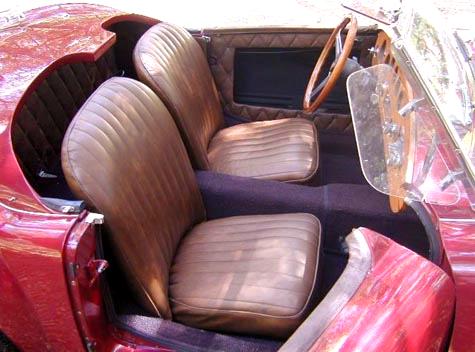 Seats, door and side panels are still covered with vintage bronze-colored Morrokide, popular diamond-tufting included. The black loop carpeting is new. Section behind seats provides plenty of additional storage space.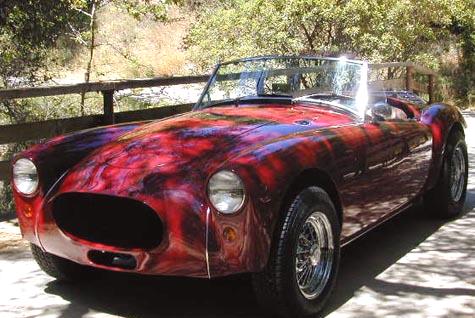 The $64,000 question: What's propelling the Gyro Gearloose Spl.?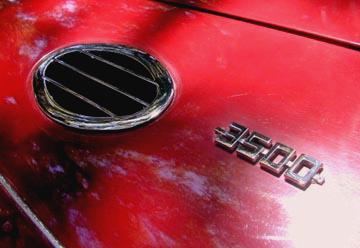 Could the "3500" scripts atop the front fenders be a clue?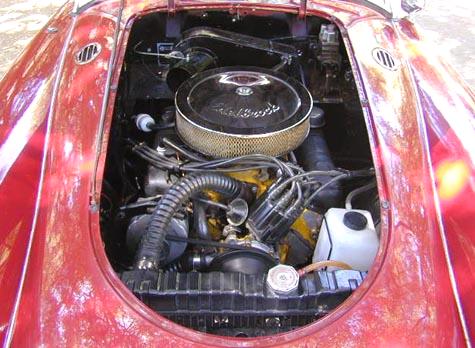 Indeed!
Below the stock hood resides BUICK's legendary, all aluminum 215-V8, the very same engine that was later adapted by the Brits to power the famous MORGAN Plus 8 and the RANGE ROVER!
Extraordinarily compact, it is, in fact, the lightest V8 production powerplant ever conceived in this Country. Mated to GM's Powerglide transmission, the engine is suited like no other to propel the light Roadster. Now rebuilt, but basically stock, it has 200-plus horses at its disposal, more than adequate to provide a thrilling ride.
High performance parts are readily available for the 3500, in case you feel like shaving the devil's beard!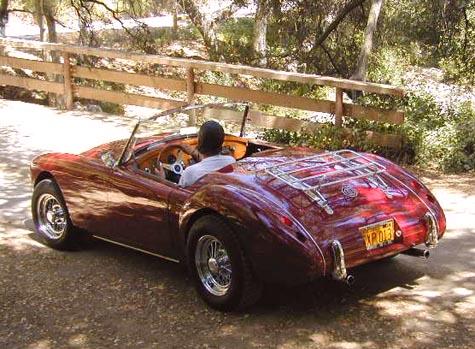 So what's it like driving the Gyro Gearloose Special?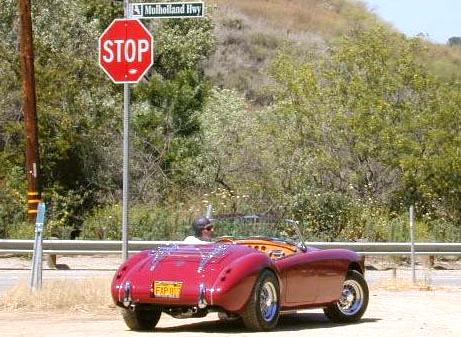 After visiting the L.A. Roadster Club father's day show in Pomona on this boiling hot Saturday, we felt like reliving the Mulholland glory days of the MG V-8 and headed out, from Laurel Canyon all the way across the Santa Monica mountains, through Topanga and back again.
Though it was hot, the GG Spl. never missed a beat, mainly due to its updated cooling system with twin thermostatically-controlled fans and its reworked electricals. Everything but the horn works on the car; even the original heater unit is still present--though we did not feel like trying it on this sweltering June day. Thankfully, the car's brakes (discs up front, drums in the rear) have also been rebuilt, and its HURST shifter for the automatic transmission works flawlessly. It is a joy to drive a lightweight Roadster possessing so much torque! Its steering is precise and effortless, and the wonderful, mellow exhaust note reverberates jubilant through the canyons.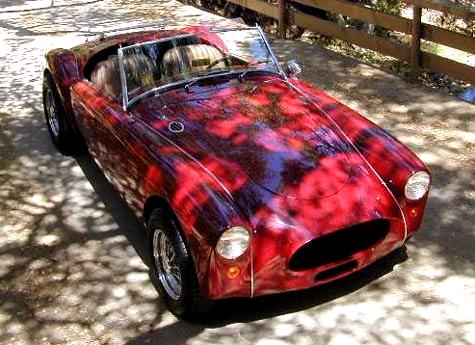 Exciting, indeed!
A rest stop near Sagebrush's Cantina permits another good look at the Special's body.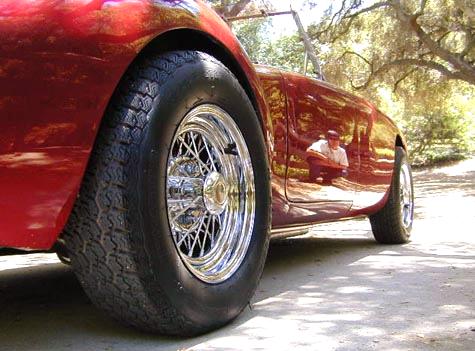 With a panel fit that's as good as it gets, the Gyro Gearloose Spl. shows off its curvaceous body. Painted in a stunning burgundy red color, the finish looks beautiful; aside from some minor imperfections, primarily some small, touched-up stone chips here and there, the hand-rubbed surface displays an almost mirror-like gloss. Although not concourse ready, it is nonetheless a professional paint job in close to show condition.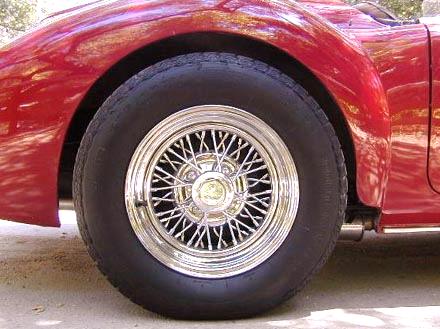 A hallmark of a British Roadster is its use of spoke wheels, either painted or beautifully chromed.
Following tradition, the GG walks on 7" wide chromed spoke wheels; they are in superb condition. Front radials are 185/70-15s, rear rubbers are slightly oversized 205/70-15s. All four tires are almost new.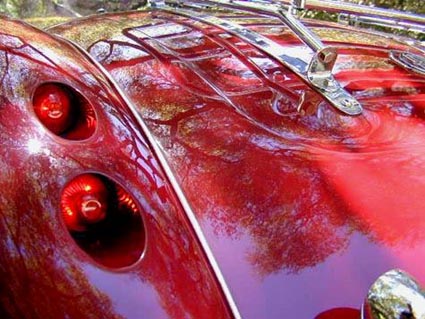 Body mods include shaved bumpers, frenched headlights, hand-formed air intakes, custom flush-mounted front turn signals, tastefully tunneled taillights, filled gas cap, and a recessed license plate. Fender beading is chrome, and a custom chrome luggage rack is not only highly practical, but also very attractive. The exterior trim has just been refinished and sparkles beautifully!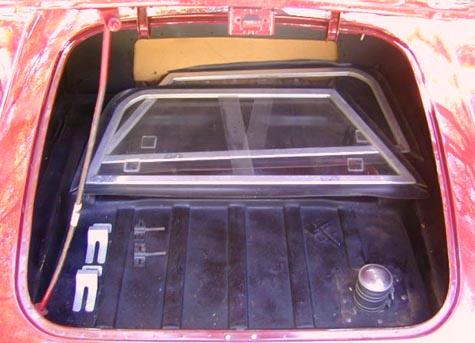 Shown inside the surprisingly large and perfectly rust free trunk are the side curtains. Although these items, with sliding lexan windows, have not been used in years, they are in excellent condition. Combined with the black convertible top (also included), they provide full weather protection in case of a surprising rain shower.
Click any of the above images for a full size view
Being over 40 years old, the condition of the car's undercarriage is of utmost importance. Here, it is not only dry and rust-free, but also very clean. The gas tank (actually, the entire fuel system) has been cleaned; there are no leaks emanating from the banjo-style rear end, and, clearly visible above, is the beautiful dual exhaust system that was installed just recently.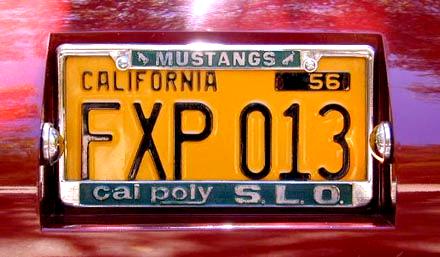 Of course, the Gyro Gearloose Spl. is eligible to wear a period California gold-and-black license plate according to the State's Y.O.M. program. Car comes with clear California Certificate of Title; the plate shown is included.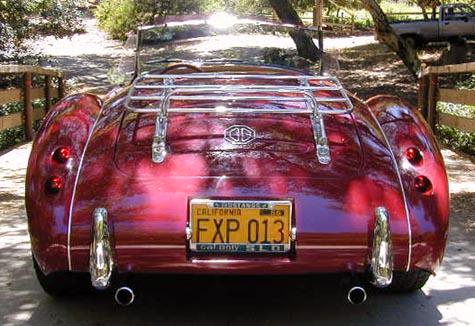 In a sea of mass-production sports cars, the hand-built and historically significant Gyro Gearloose Spl. occupies a distinguished place. Its tasteful period mods may be subtle, but its performance is breathtaking. If you are looking for the ultimate toy, a vintage Roadster with muscle car performance, here's a once-in-a-lifetime opportunity.