Statistics tell us that automobiles have a lifespan of 12 years, on average, before being relegated to the boneyard. Whereas many collectible cars live longer lives, usually being "re-done" to various degrees, very few cars survive 30, 40, or 50 years in excellent unrestored condition.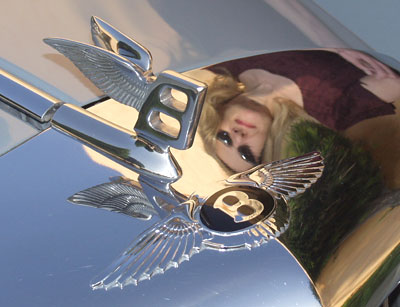 Bona fide survivors appear to be straight out of a mythical realm, virginal cars that somehow seem to have spent their lives inside a vacuum bubble, having arrived in the 21st Century by means of Aldous Huxley's time machine. Cars that are protagonists of stories told by mustachioed country gents while mesmerized young fellows listen attentively, with open hearts and and an open mind.
But do such cars really exist?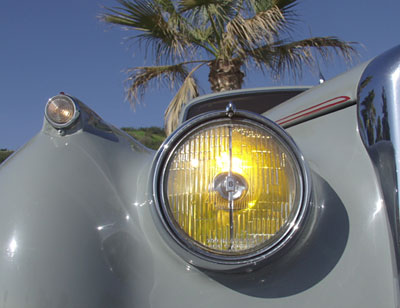 Click on the above image for a full-size, close-up view of the irreplaceable (Type 700) "B" headlamps
They do, indeed, and here's one of those fabled conveyances!
Meet the Flying B and read the true story of its life, which is as incredible as the car's condition. Then, you might ask yourself: could this be the finest unrestored Bentley of its vintage on the face of this blue planet?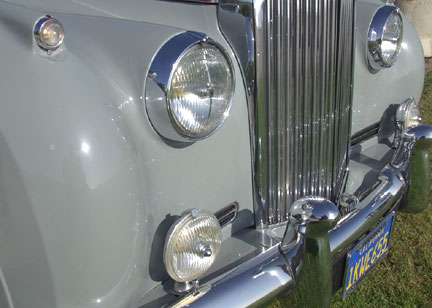 Before we get started please keep in mind that any Bentley of the classic period is a mighty fine motorcar to begin with. It's the logical choice for the Rolls Royce owner who prefers to guide the volant himself, a hand-built car in one league with a Dual Ghia or a Bristol, perhaps. Then again, it's a car beyond the limitations of comparison, really.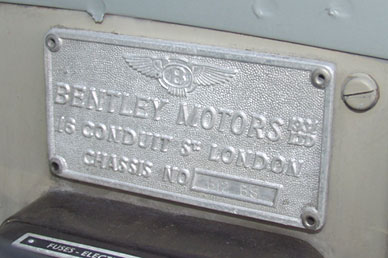 Back in 1960, being an affluent gentleman, you could travel to Her Majesty's Kingdom and order a new Bentley to your personal taste, just like a bespoke suit commissioned directly on Savile Row, or your private blend of Eau de Cologne from Floris on Jermyn Street. To be sure, a new Bentley S2, like the splendidly preserved one presented here, would set you back a cool £4,977.00 Pounds Sterling, or as much as a dozen factory-fresh 1960 Volkswagen Beetles, a price proportional to the $250,000.00 a brand new Bentley costs today, still the equivalent of a dozen New Beetles.
Purchased new by Mr. G.B. Parker, Esq., of 2 Finch Lane in London, VIN *B12BS* followed its first owner to the Italian Riviera in 1966, where it led a sheltered life gracing the motorcourt of a small country palazzo, facilitating good relations with the local aristocracy.
Upon its first owner's passing, the car found its way to the U.S., becoming a permanent resident of the VIP enclave Montecito, California. It is currently registered and proudly carries its original, vintage California blue-and-gold license plates.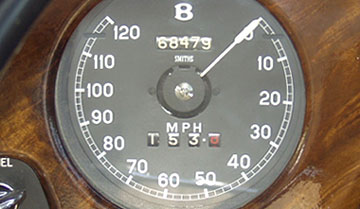 Having been acquired in 1984 with 55,000 miles showing, the odometer accumulated just over 13,000 miles during the last 18 years, for a grand total of 68,480 original miles. Since it was new, the Bentley was driven 1,630 annual miles, on average, just enough to keep the vital fluids circulating sufficiently!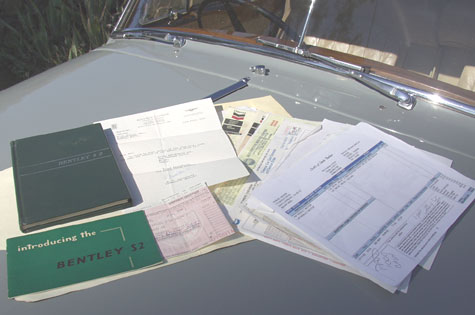 Being a proper low-mileage Bentley, the car comes with its pristine original, green-leather-bound owner's manual and even the hard-to-find Introducing the Bentley S2 booklet. Every registration since 1984 is included, as well as every service record since the car arrived on these shores. Due to its age, the Bentley is exempt from DOT/EPA (smog) regulations.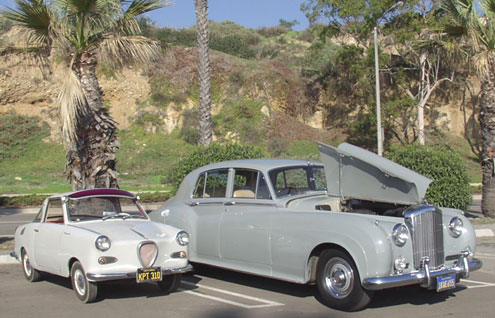 Size does matter and compared to my contemporary Goggomobil Coupe, which also seats four, the Bentley is a behemoth. To the common European motorist of the 1960s, glad to be able to escape the wrath of the elements in a micro car, the huge Bentley spelled Old Money; class boundaries were still intact.
Traditionalists and true aficionados of the marque prefer the S2 over the quad-headlamp S3, since it already features the smooth and powerful V-8 and boasts of modern amenities like power steering, power brakes, a GM 4-speed automatic transmission, and power windows. On the other hand, the factory still retained the more upright radiator grille and the restrained single headlight look.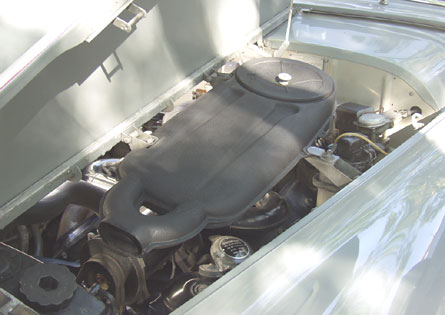 Click on the above image for a full-size, close-up view of the engine
Beneath the impressive gullwing bonnet rests the Flying B's sparklin' clean, original cast aluminum V-8 engine. It behaves just like you would expect: starts without hesitation on the first turn of the (original) ignition key, runs smoothly like butter over a freshly toasted English muffin, hardly leaks, doesn't smoke, and doesn't misbehave in any way. It is comparable to the valedictorian of the country's finest boarding school and a sheer delight to look at. A masterpiece of engineering, it has been assembled by a single craftsman without any time constraints. It is destined to live forever, in automotive years, that is.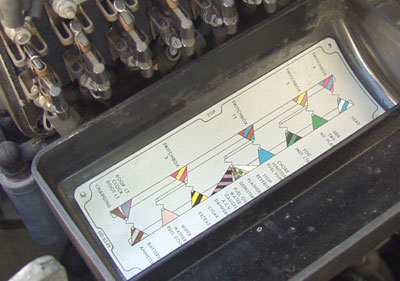 One cannot possibly conceive the effort that went into building this stately motorcar. Just have a look at the impeccable detailing of the label inside the cover of the Bakelite fuse box, mounted to the firewall in the engine compartment. Made from a thin sheet of aluminum the size of a playing card, it is colorfully imprinted with a wiring diagram. Priceless!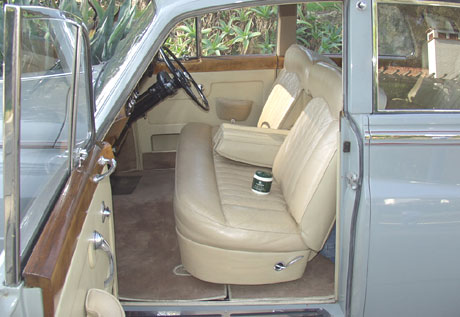 Click on the above image for a full-size, close-up view of the front seats
Entering the car, one is surprised by the generous amount of legroom inside. CONNOLLY-clad leather seats are ultra plush and individually adjustable, with retractable dual center arm rests. The original leather and WILTON carpeting still emit the unmistakable, mesmerizing aroma you'll only find inside a Rolls Royce or Bentley with its original interior preserved. A close-up reveals the fine condition of the hides and their irreplaceable sculpturing; after 42 years of service, this amazing automobile still displays all that's right with superior British coachbuilding and supports the manufacturer's claim that a Rolls Royce or Bentley motorcar will last a lifetime.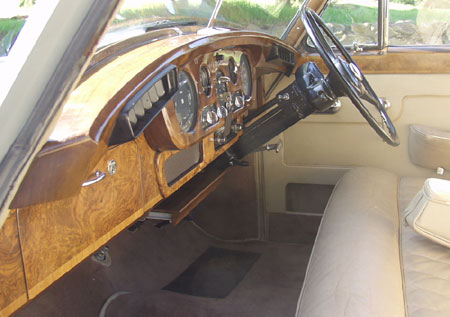 Click on the above image for a full-size, close-up view of the dashboard
The dashboard certainly lives up to its name, being wall-to-wall wood. Not any wood, mind you, only the finest burl walnut was painstakingly finished by hand to create the singularly impressive look of opulence, unmatched by any of the Bentley's contemporary competitors. Accoutrements include electric window lifts, heated rear window, a pull-out tray below the fascia (far more stylish than mundane cupholders), and even--via a remote switch on the steering column--adjustable rear damper stiffness.
For the record let me state that e-v-e-r-y-t-h-i-n-g on and in this Bentley works perfectly!
Click on any of the above images for a full-size view
(Above)
Felt-lined glovebox is immaculate
Classic white-on-black SMITHS gauges. Yes, the clock keeps perfect time! Note the exquisite condition of the wood and the original His Master's Voice tube radio. It sounds great!
Original flashlight plugs into dash outlet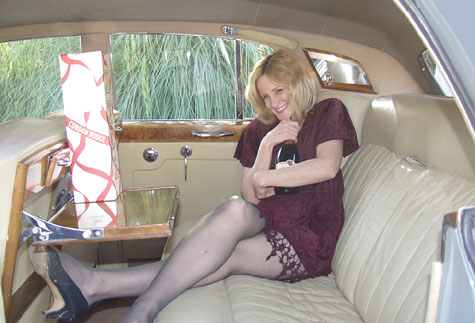 Rear compartment is fit for a King (and his Queen). Semi-reclined seating is far more comfortable than anything modern limousines have to offer.
Click on any of the above images for a full-size view
(Above)
Dual picnic trays to rear compartment
Lighted vanity mirrors include cigarette lighters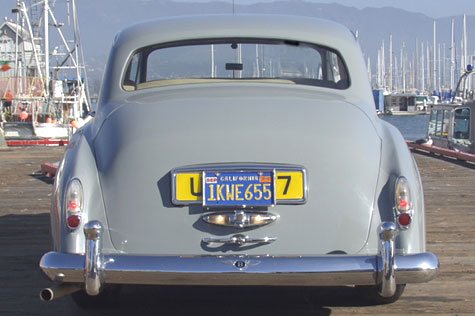 A powerful long-distance touring car, the Bentley is equipped with an enormous trunk, big enough to swallow a family's vacation luggage.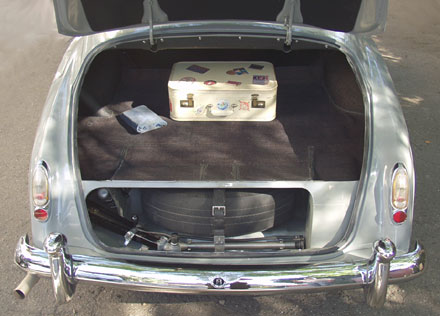 Click on the above image for a full-size, close-up view of the trunk
Woven sisal trunk material is in immaculate condition, without any damage at all. Inside a protective blue cloth pouch, you'll find the original, complete Johnson & Johnson First Aid Kit, made in England.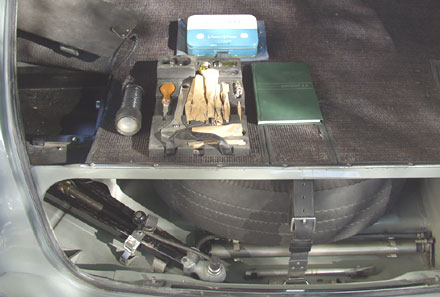 Complete large and small tools. A compartment to the left of the trunk houses the removable tray of small tools. Inside the spare tire compartment, all the original large tools are visible, including the tire air pump.
Rarer than hen's teeth is the black leather strap that can be attached to a chromed bracket on the trunk lid. Should His Lordship desire to take the grand piano along on his summer vacation--thus being unable to fully close the baggage compartment--this elusive strap would secure it.
Click on any of the above images for a full-size view
(Above)
Factory tool kit, complete, the spanners still wrapped in brown paper. When did you last see anything like this? Back in 1960, maybe?
Trunk light bezel is in flawless condition; pristinely preserved rubber grommet still has talcum powder residue on it!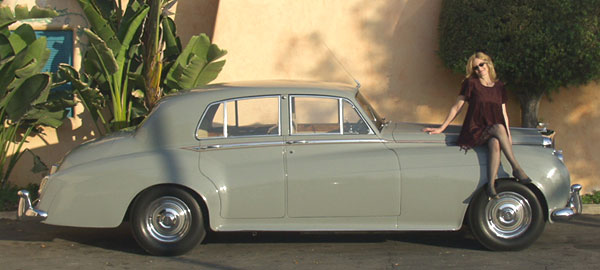 Driving the Flying B, one of the World's last whispering giants, is a surprisingly effortless undertaking, its majestic appearance notwithstanding.
Equipped with the superior V-8, independent front suspension (IRS), and all the power amenities one could wish for, with generous legroom and an elevated seating position on par with SUV operators, this S2 is perfectly suited to continue its time travel well into the 21st Century!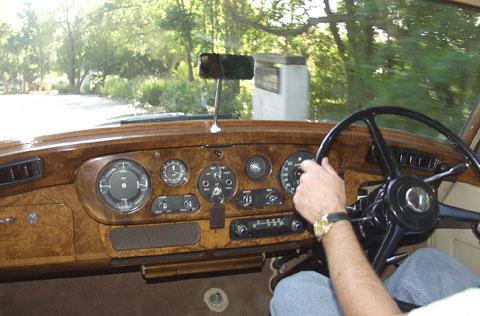 Easily cruising at 75 to 80mph on the freeway, yellow headlight beams alerting motorists ahead that something extraordinary is approaching, the Bentley glides through traffic like the Titanic riding on a cloud.
Other drivers signal their hushed approval and go out of their way to catch a quick look at who's driving. More understated than a Rolls Royce, albeit of the same gene pool, this Bentley respectfully represents, not bluntly in any way.
All-the-while, occupants enjoy otherworldly accoutrements and a place of perfect peace, away from the sometimes disturbing noise out there. A majestic experience, indeed!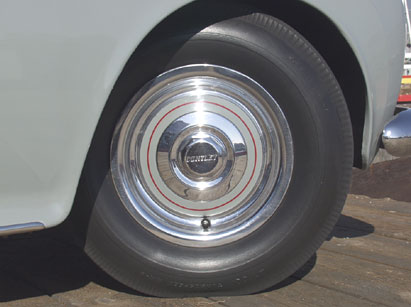 Partial credit for the smooth gliding has to go to the huge, balloon-type bias ply tires of the size 8.20-15. Call me delusional, but I believe these to be the original tires the car was equipped with at the factory!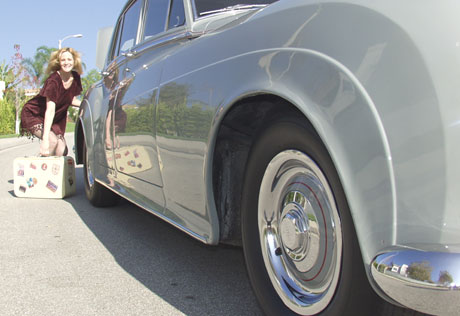 And originality is also what elevates the state of preservation of the coveted coachwork to such a high level.
This Bentley delights with a miraculously well-preserved body, partly due to the pioneering use of zinc-plated steel pressings for door sills and bulkhead panels, but mainly to the influx of the mild Mediterranean climate and a charmed life out of harm's way, always carefully covered and stored in a dry garage.
The exterior is highlighted by the factory-applied, 42-year-old dove gray finish. A couple of places have been touched up; atop the front fender there is a small spot of primer showing; around the offside turn indicator lamp there is a bit of lead swelling. However, the overall impression is utterly stunning. How often do you see a car this old sporting nice original paint?
The elegant, hand-painted, dark red coach lines were expertly restored to their former glory by master pinstriper Tom "Itchy" Otis.
All the chrome brightwork is absolutely straight, pit-free, and sparkling; this Bentley looks like a Million Dollars and receives admiring glances wherever it goes.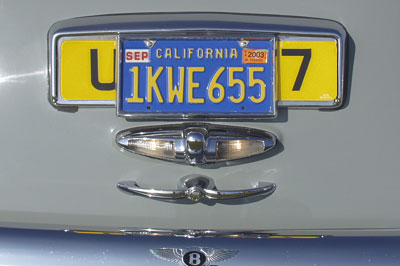 This exceptionally preserved S2 is a singularly attractive luxury automobile with perfect detailing and excellent taste in evidence throughout. Its pedigree is impeccable! Hugely expensive when new, it appealed to the connoisseur who demanded the best money could buy. Today, an exquisitely preserved, all original example like the one for auction here is the archetype of the lucky find every true enthusiast is hoping to unearth once in a lifetime.
How could you possibly top the rust-free, low-mileage, original paint Flying B from Bentley's post-war glory days?
Once again, we're asking the question: could this be the finest unrestored Bentley of its vintage on the planet?