! ----------- Ticker tape message ---------> <! -------------- end of Ticker tape message ------------>
The Bolide
. . . old Racers never die!
There was a time, when a reasonably well-heeled racing enthusiast could walk into a car agency's showroom, plunk down a few grand, and drive out in a real dual-purpose competition machine. A sports car that could be driven to the office during the week and compete on the track come Sunday.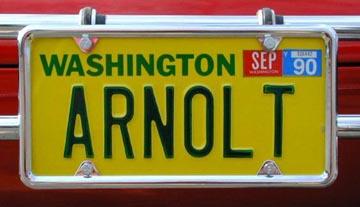 Limited production cars like the Allard, Kurtis, and Porsche Speedster come to mind. One of the most famous contenders for the street/strip crown, however, was "Wacky" Arnolt's brainchild, the Arnolt Bristol Bolide.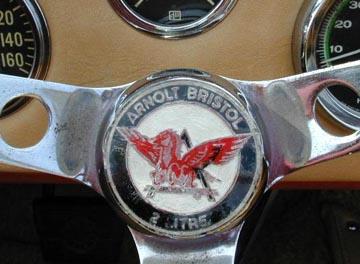 "Wacky's" first claim to fame was ordering 200 special-bodied MG TDs from Nuccio Bertone in Italy, thus single-handedly saving the venerable coachbuilder from certain bankruptcy. The Arnolt-MGs were beautiful to behold, if somewhat slow. Every single one of them sold, and "Wacky" began to think big. He linked forces with the British Bristol Aeroplane Works, which--in addition to RAF fighter planes--offered a very exclusive, hand built, high performance Coupé, roughly from the same mold as the Aston Martin or Jensen. Complete, driving chassis were purchased from Bristol and delivered to Bertone's Turin factory, where they were clad with a voluptuous roadster body. This design masterpiece was penned by Franco Scaglione, who at the time also was working on the Alfa Romeo Giulietta Sprint and, more importantly, on the famous aerodynamic B.A.T. show cars.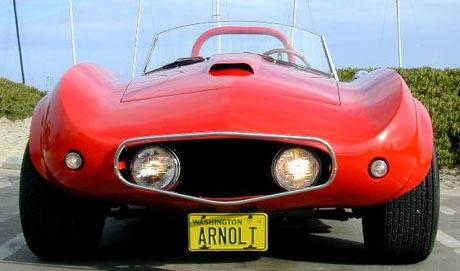 Introduced to the public at the London Motor Show in the fall of '53, the first Arnolt Bristols arrived in the U.S. early in 1954. A total of 142 cars were built over the next few years, among them 3 Coupés, a few all-aluminum bodied cars, and even a few that were powered by Chevrolet V-8s.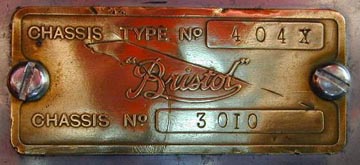 Based on a shortened Bristol model 404 chassis, the car had a 96-inch wheelbase and measured about 14 ft. in overall length.
Its hand-formed steel body featured aluminum-skinned hoods, and was sparsely equipped. A full windshield, wipers, bumpers, top, or roll bar were extra-cost options on the Bolide.
Chassis No. 3010 apparently is the 10th Arnolt Bristol manufactured. Built probably as early as 1954, the Certificate of Title states 1957 as the year it was first sold.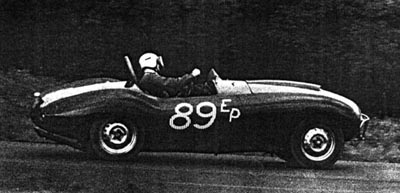 The Arnolt Company operated its own racing team, winning its class at Sebring in 1955, '56, and '60. Privately owned Arnolt Bristols were the scourge of SCCA E-Production classes for years and collected innumerable racing successes. Now fully VSCCA eligible for vintage events, quite a few of these fast cars are still actively raced.
According to its former owner, the car for auction here has a rich competition history; among other tracks, it has been raced at Road America, SIR, Watkins Glen, and Bridgehampton, well into the 1980s.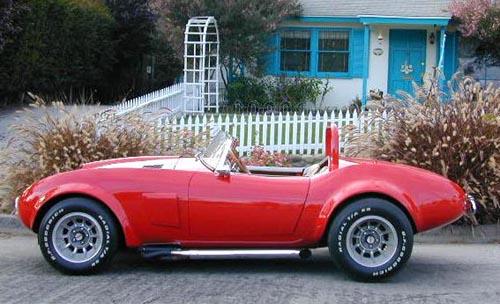 Rich Taylor writes in his book "Modern Classics":
"Compared to most other limited-production sports cars available at the time, the Arnolt Bristol was extremely well put together, incredibly robust, beautiful . . . and it went like hell. All in all, it was a peculiarly happy design, well balanced, a delight to drive, and more than equal to similarly sized Ferraris and Maseratis."
Today, the Arnolt Bristol is recognized as a Milestone Car by the MCS of America.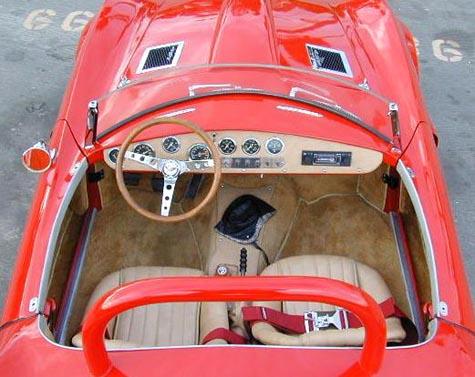 The purposeful interior is surprisingly roomy and spotlessly clean.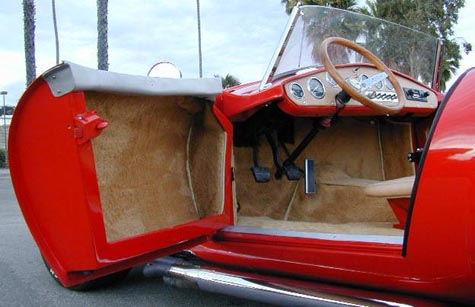 Beautifully finished, lightweight doors open wide for ease of entry. This body won't rust or sag, thanks to the car's extremely sturdy Bristol chassis, which, by the way, is still used on the current models made by Bristol in Filton, England.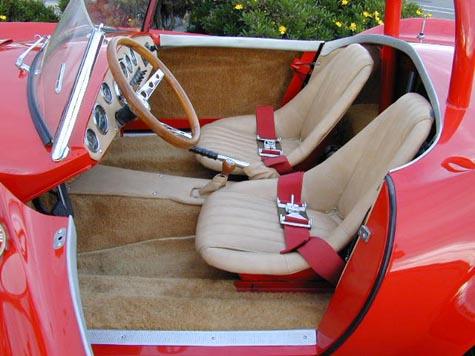 Bertone designed, deep-cushion bucket seats are original and afford perfect body support during fast cornering, aided by 3-inch wide PYROTECT competition belts. Steering column is Bristol's factory telescopic unit.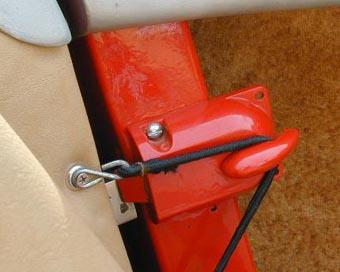 Door safety straps for added peace of mind during a race . . .
Full-size lexan windshield was extra-cost upgrade from the standard Brooklands-type folding windscreen.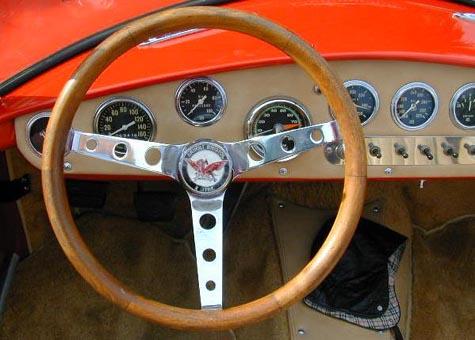 Vintage STEWART-WARNER gauges are most appropriate and blend harmoniously with the chrome-spoke wood steering wheel and an array of toggle switches. Odometer shows 6,941 miles.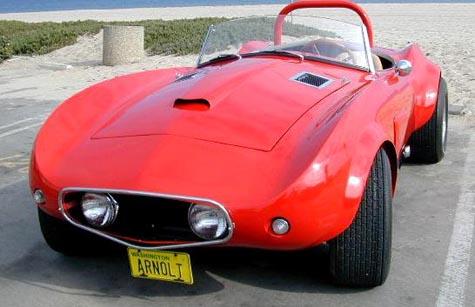 Webster's Dictionary defines bolide as "a bright, shooting meteor, especially one that explodes . . ."
Well, look out everybody, here it comes!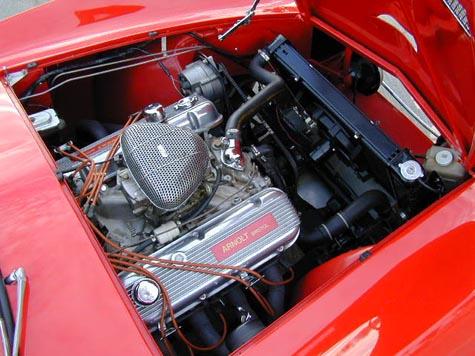 A giant heart lurks beneath the front-hinged, aluminum hood. This Arnolt Bristol is powered by 454 cubic inches of CHEVROLET's rawest muscle on steroids. Being of 1970 vintage, the power plant puts out 345 horses in stock form and is only lightly tweaked. An EDELBROCK Street Dominator aluminum intake manifold, topped with a HOLLEY 650 cfm Spread Bore Double Pumper, enhance the engine's performance. Add an ISKY cam and cylinder heads that have been cleaned up by Valley Head Service, along with custom headers by Doug, and total output should be in the 400+ hp range. Polished aluminum, finned valve covers complete the picture. Power is fed to a stout MUNCIE 4-speed manual top loader transmission.
Considering the low weight (about 2,200 lbs) of the Arnolt Bristol, its power-to-weight ratio is an astonishing 2.5 kg/hp. This definitely is 427 Cobra territory!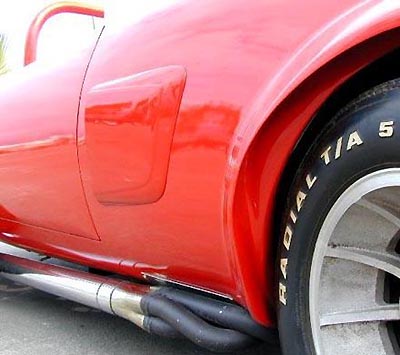 Large diameter side pipes handle exhaust duties. Note the original wheel openings beneath the competition flares, fitted by a former owner to accommodate GR50/15 tires in front, LR50/15s in the rear. Wheels are AMERICAN RACING alloys.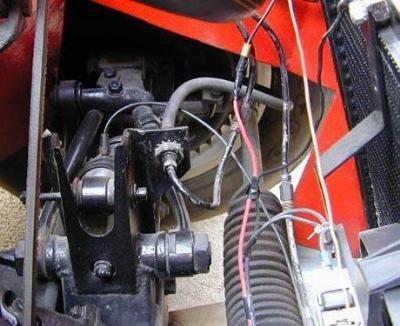 For many years, Bristol's suspension layout was considered state of the art. Not unlike its contemporary, the AC, Bristol's ladder-type frame features independently sprung front wheels, employing wishbone arms and a transverse multileaf spring with an incorporated anti-roll bar. The precise steering is by rack and pinion. An interesting addition to this car is a set of high-performance ALFIN brakes; one finned drum is visible above.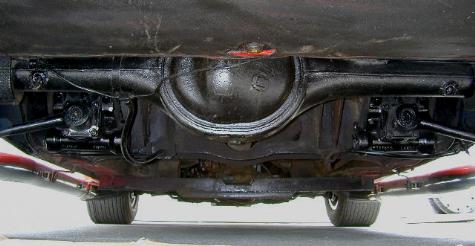 Torsion bars running fore to aft support the body at the rear. The rear end is located by torsion bar arms and a massive, triangulated stabilizing bracket at the top of the banjo axle. Large hydraulic double-acting shocks are employed on both front and rear wheels.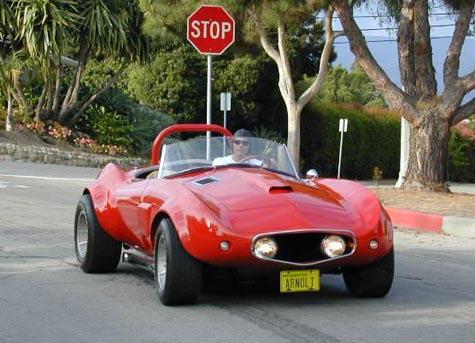 As expected, the driving experience is unmatched, and challenges the means of language describing it.
Occupy the pilot's seat and you will be pleasantly surprised by the quite generous space for your long legs. The steering wheel, angled a bit like that of the famous Austin Cooper and Sprint Cars, is right were you want it to be. All the instruments are within sight. Everything is clearly organized and beautiful to look at and the shifter begs you to close your fist tight around it.
You move the ignition key by a few degrees and hear the busily ticking fuel pump, rapidly priming the fuel system. Got that big heart pumping . . .
Press the clutch . . . yep . . . that's race car material . . . pump the gas pedal once . . . and turn the ignition key. Here it comes . . .
The starter shrieks for a second and a half and the huge power plant fires and runs with the unmistakable sound of a monster motor. It takes less than a handful of seconds until the eight huge cylinders idle smoothly, a mellifluous sound found on no other car. Closest thing would be a combat helicopter, really. You become aware that the pipes exit right behind your ears! This is no stealth mobile. No Sir!
You put it in first, give it some gas and let the clutch out, slooowly. Wow . . . drives like a regular car. Amazing! Just the right thing to get the groceries . . .
Sure it's fast, it's on the noisy side, and it makes people's necks crack while they watch you with wide open eyes. Everybody's staring while you cruise along in the red missile. Let's give'em something to talk about, shall we?
The runway is clear, not an obstacle from here to the horizon, so you drop the hammer.
A split second of hesitation, like the engine's asking you: "Are you really sure you want to do this? As you command!"
All hell breaks loose! Noise, infernal but oh so beautiful noise, mixed with smoke coming from the rear tires whose wide rubber doesn't stand a chance to transfer gigabytes of torque and train loads of wild horses to the tarmac. Your head is pressed back firmly like in one of these centrifugal rides at Magic Mountain. Wishing you were equipped with a set of Mickey Thompson Racemasters, you are catapulted forward forcefully, like a bullet shot through a time tunnel. Tempted to faint, you realize: the horizon is here!
You let go. Too much is too much. If there ever was a car that doesn't need more power, this is it! The driver is the limit.
The fastest way to convert money into rubber.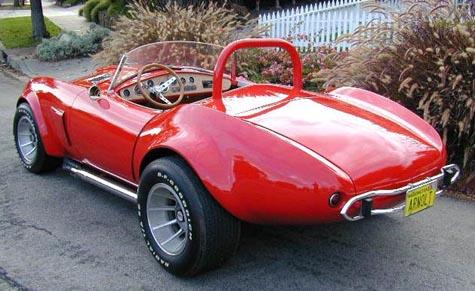 The uninitiated sometimes mistake this car for a 427 Cobra, but the Arnolt Bristol is not a kit car or replica. Who would believe that an authentic, 45-year-old competition car is prowling the streets of the neighborhood? Then again, anything is possible in Southern California . . .
With working lights, a horn, even windshield wipers, the Arnolt Bristol is fully street legal. The last owner, who now resides in Santa Barbara, Calif., bought the car in 1988 and participated sporadically in vintage race and concours events. Mostly, though, No. 3010 was stored in a climate-controlled aircraft hangar near Seattle International Raceway. The Bolide's sculpted body, with its characteristic razor-edge fenders, is very straight and covered by smooth, glossy rosso red paint. Except for some small abrasions and a few chips at the wheel openings, paint is in excellent condition. There is no rust to be found anywhere.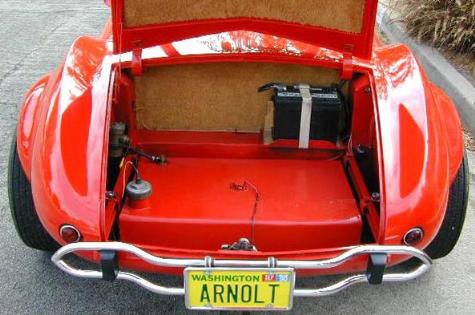 The spacious trunk compartment is all business, with electric fuel pump, large fuel tank, and battery.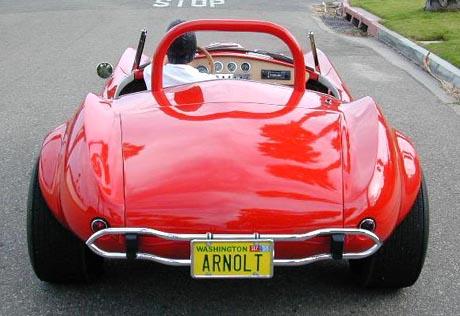 Prices for certified lightweight competition cars have been climbing unceasingly and will most certainly continue to do so. Speaking of a once in a lifetime opportunity is surely justified in this particular case. In a league with some of the most desirable post-war sports cars, such as the Scarab, the Cunningham, and the Devin SS, this Arnolt Bristol Bolide boasts more superlatives than Claudia Schiffer has boyfriends.
Its solid ladder frame all but guarantees immortality; its powerful and dependable hybrid heart a trouble-free life. Its rarity and provenance warrant financial gain while you're driving the ultimate street missile that accelerates like a Formula Two monoposto. Why purchase a Porsche 550 Spyder recreation or a Shelby Cobra replica when you can own an authentic 1950s Golden Age sports racer?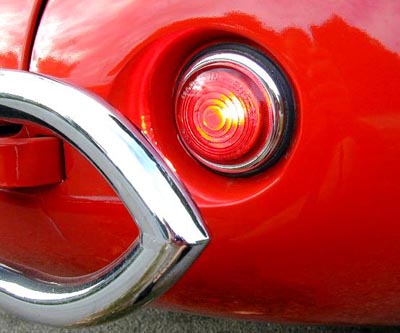 You will not find the Arnolt Bristol listed in the Old Car Price Guides; there are too few around. Whenever one comes up for sale, it changes hands silently. The last documented transaction we have been able to find was for $70,000.00, two years ago. We fully trust the cognoscenti among you to realize the tremendous opportunity this offering represents.
"The noblest art -
is that of making others happy."
P.T. Barnum
Thank you for your interest, and have a nice day!
---
Auction Presentation & Copyright © 2000 by Californiaclassix.com. All Rights Reserved.
No part of this presentation may be reproduced without written permission of the author.