Una Piccola Barchetta!
La Casa Stanguellini in the Via Schedoni, Modena, was one of the many famous manufacturers of sports and racing cars in this Northern Italian town. Other distinguished marques that called the Emilia their home are Ferrari, Maserati, Lamborghini, and DeTomaso.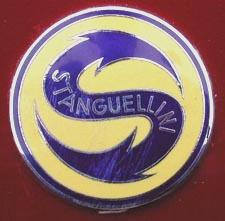 Vittorio Stanguellini was a talented engineer; he started his own business in 1929, at the ripe old age of 19. A long and fruitful association with FIAT led to the construction of many one-off sports racing cars and monoposti, well into the 1960s.
Among the most celebrated creations of the marque are the FIAT 1100S-based barchettas of the immediate post-WWII period from 1947-53. The FIAT 1100S itself was a very powerful small-bore sports Coupé for its time, with 51b.h.p. deriving from its 1,089cc engine. A fierce competitor in the extremely popular under-1100cc class, its only serious rival was the Porsche 356. Only 401 FIAT 1100S were built; many were destroyed during competition events. A few, such as the car for auction here, were fitted with light aluminum barchetta body work, their engines and suspensions further tuned by men like Carlo Abarth and Vittorio Stanguellini.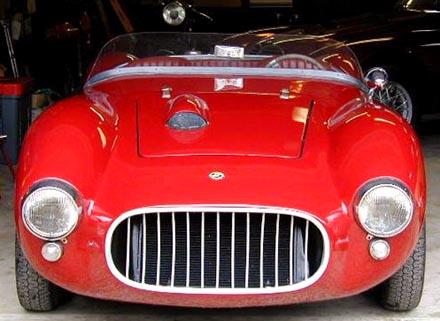 This fantastic roadster is one of only a handful of surviving original STANGUELLINI 1100 Sport Internazionale models.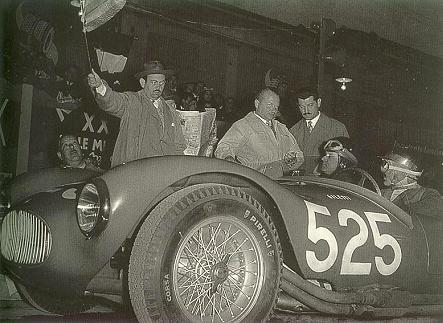 Simultaneously light and aggressive body lines of the STANGUELLINI closely resemble the indomitable MASERATI A6GCS's design of the same vintage.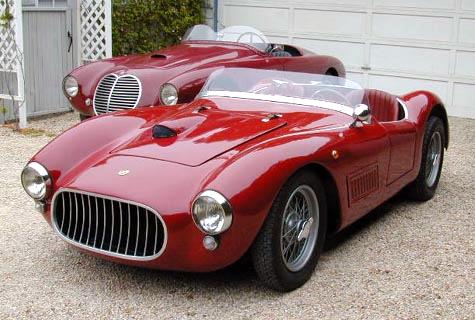 Bold grille, rudimentary racing windshield, aluminum-framed cockpit, bullet mirror, air intake with mesh grille, leather straps to hold bonnet and trunk lid closed, a minimum of brightwork, and Borrani-style ruote a raggi wire wheels identify this breathtaking automobile as the proverbial post-war macchina competizione. A white, painted-on racing number would complete the picture!
(Note: car in background, the equally rare MONTICONE, is not for sale at this time)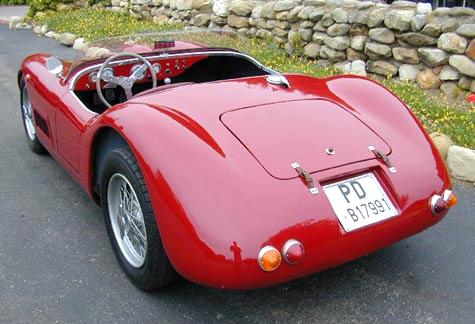 Just like on its original Italian Certificate of Title, Chassis # 500116 is listed in the who is who? of Italian sports cars, the Italian Car Registry, with the addition "Elaborazione Stanguellini." Furthermore, "Autocarrozzeria Giorgetti" is credited with the car's bodywork.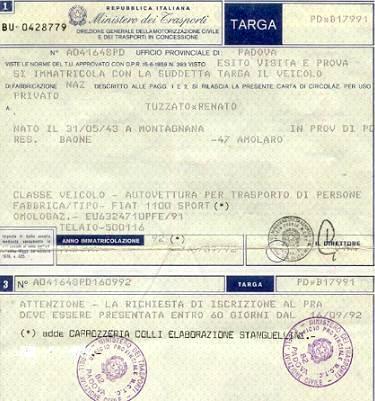 Interestingly, the back of the title lists ex Mario Giorgetti 1952 as well, making for a most interesting connection regarding the car's provenance.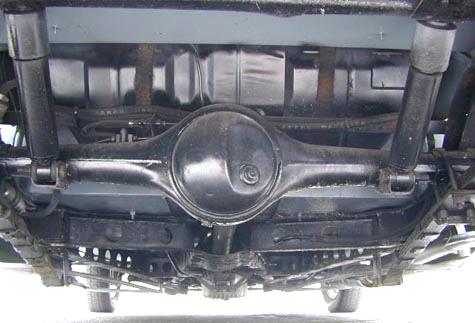 Based on the light but sturdy FIAT works chassis, the entire car--excluding driver--weighs only 1175 lbs! Its undercarriage is very tidy and rust-free.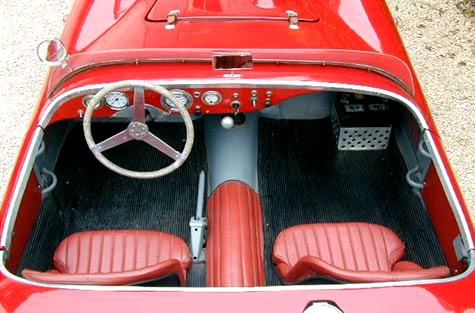 The cockpit displays austere functionality, Italian style, albeit in a mesmerizingly beautiful combination of colors and materials.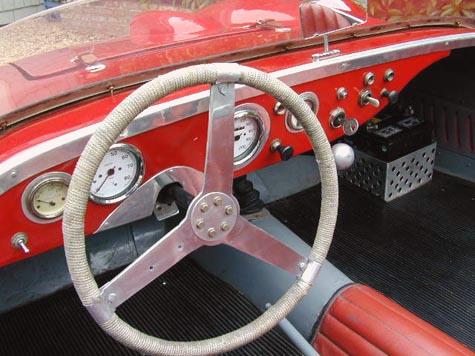 Minimalist dash features a very basic set of gauges to keep the driver informed: water temperature, fuel level, RPM, and speed. Interesting MAGNETI MARELLI bayonet-style ignition key also works the lights. Stark, twine-wrapped aluminum steering wheel and remote 4-speed shifter communicate just the right sensations to the car's proud piloto. Get your aviator goggles and white cotton dust cap and let's go racing!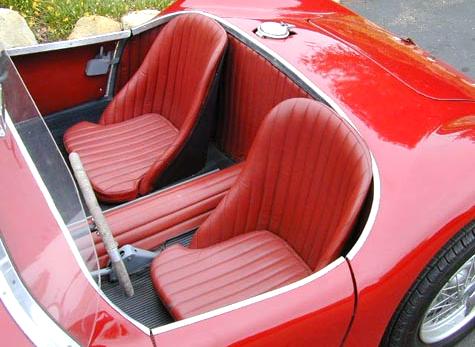 The carmine red leather covering the aluminum competizione bucket seats is of a type unavailable in this country. Old-world workmanship at its finest, with a desirable, ever-so-slight patina.
It's the sum of small details that really make this car a standout.
Side panel with functional, Ferrari-style louvers is definitely period-looking, as are drilled lightweight battery box and aluminum flip-open fuel cap.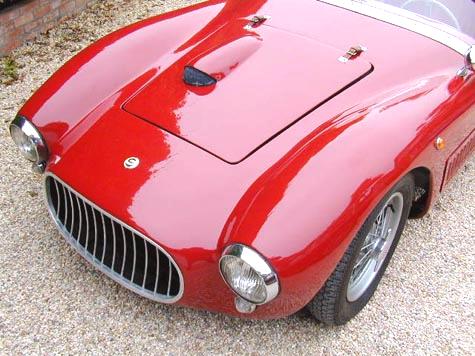 Now, let's see what's under the bonnet of this beautiful brute!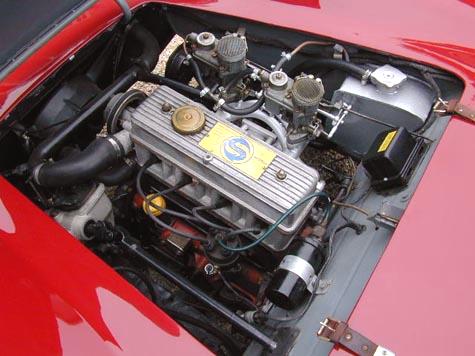 Stanguellini's 1090cc engine #108C 335739 is of same vintage as the chassis, features invaluable ancient speed equipment, such as a finned aluminum oil sump and valve cover and the ABARTH dual carb intake. Compression has been raised and a hotter cam has been installed. Performance is simply stupendous! This car may be almost 50 years old, but it truly is in fine fettle, to quote the British again.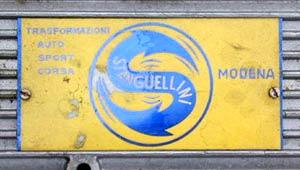 Yes, Stanguellini transformed mundane cars into race winners, with hot engines and aerodynamic lightweight aluminum bodies!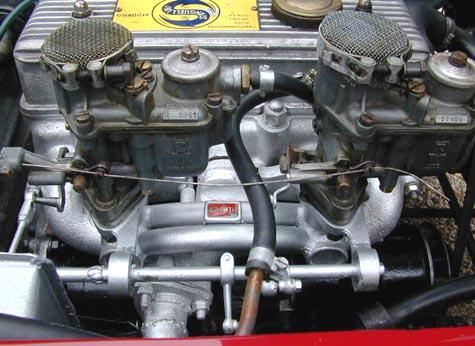 View of the engine's intake side with its dual downdraft, 32 WEBER carburetors atop a quite unique manifold. This piece alone, with its red-on-bronze enameled ABARTH manufacturer's tag, will make the true connoisseur salivate, it's that rare!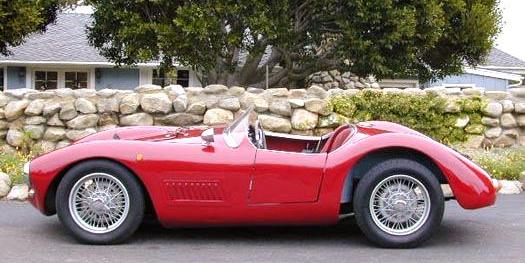 Like many old race cars that have been languishing for decades in workshops, garages and barns, surrounded by tales of mythical competition successes, this STANGUELLINI may very well bear a most interesting--and valuable--surprise. Click on this link, and you'll be able to view the list of entrants for the 1953 Mille Miglia, the greatest road race of all time.
In the categoria sport - classe 1.100 cc, a Signore M. Giorgetti (with co-pilot Belelli) is listed as No. 412 with his Fiat-Stanguellini. Most likely this is the same Mario Giorgetti who clad the very car for auction here. Further research is necessary to affirm the car's famous racing history conclusively, no doubt, but what an exciting prospect!
A taste of Tazio!
Immortal racing legend Nuvolari, the flying Mantovan, almost won the Mille Miglia in 1947 after his heroic drive in a very similar automobile, an 1100cc CISITALIA barchetta, only to be outgunned after 958 gruelling miles by Biondetti in a mighty 3-liter ALFA-ROMEO.
40-spoke wire wheels are period-correct with rolled edges, feature nickel-plated knock offs. Tires are MICHELIN 145 x 15 with varying compound front to rear, and they are in wonderful condition.
Check out the vented and finned aluminum brake drums!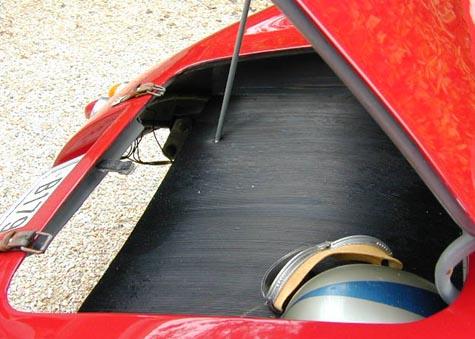 You better secure your luggage in this trunk, should you elect to take along any . . .
Detail picture shows off neat aluminum work. This STANGUELLINI has received what the English call a sympathetic restoration. Useable parts, original surfaces and structures have been left intact whenever possible. The rosso rubino exterior is in excellent condition, the sensitive aluminum skin undented.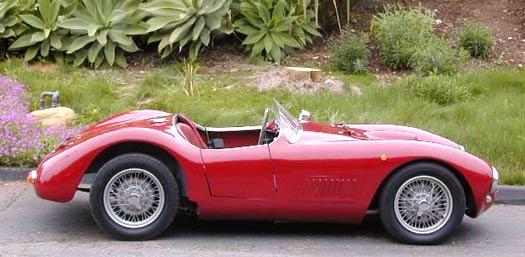 Each spring, vintage race cars from all five continents are being shipped to Brescia. Their proud owners enjoy immersing themselves deeply into the Dolce Vita and the appreciative adulation of large crowds that gather everywhere along the route of the Mille Miglia Storica to cheer on the heroes of the race--just like in the old days! Many famous race car drivers insist on returning to the site of former glory and defeat, and the annual Mille is the society event of the vintage racing season, much like Pebble Beach on the concours circuit.
Every year, about five applications for each available starting position are received by the event's organizers; a strict selection process guarantees that only genuine sports cars of utmost historical value are included. To have raced in the Mille Miglia Storica is an honor for both, man and machine.
The STANGUELLINI is definitely eligible to participate in the Mille Miglia; moreover, an invitation by Mr. Martin Swig to participate in the California Mille has already been extended.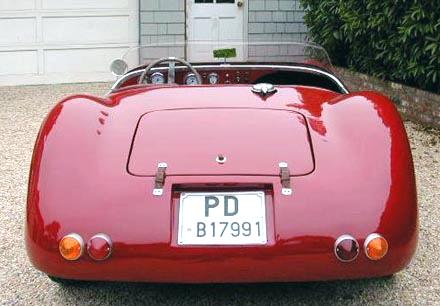 Genuine, early post-war road racing cars are almost impossible to find, in any condition. Any competition car bearing the ASTON MARTIN, FERRARI or VERITAS radiator badge will be priced beyond the means of mere mortals.
This STANGUELLINI 1100 Sport Internazionale is fully sorted and ready for any adventure, be it an exhilarating drive along the California coastline on Highway 1, Pebble Beach's Concorso Italiano, or recreational competition on the vintage road race circuit. Though ultra-exotic, it's an easy-to-own example of etceterini, since its largely production-derived technology neither stresses mechanics nor pocket books.
---
Presentation & Copyright © 1999-2002 by Californiaclassix.com. All Rights Reserved.