In the vast realm of vintage motorcycles, just a few machines have achieved such an overwhelming level of admiration and respect to rightfully be called icons of motorcycle history.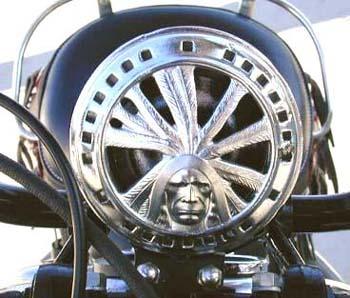 The glorious 1930s contribute Lawrence of Arabia's favorite, the Brough Superior 100SS; after the war, again, her Majesty's subjects supply the immortal Vincent 'Black Shadow.' We Americans proudly present the most-cherished motorcycle of all time: the legendary INDIAN Big Chief. Famous for masterful design as well as bristling performance, a bone stock Chief, ridden by Fred Ludlow, set a Class C record of 120.747mph at the Bonneville Salt Flats in 1938. That was sixty-three years ago!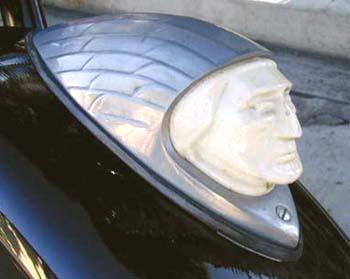 Not unlike Donald Duck's bicycle of the 1940s, a fully skirted INDIAN Big Chief is an adventure on wheels, a rolling sculpture, and the subject of enthusiastic comments and conversations wherever it appears, drawing crowds in the process.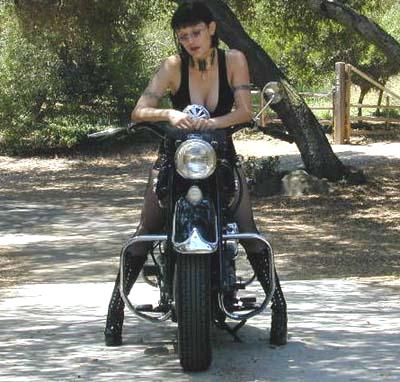 Dressed in full war paint and featuring looks to kill for, the expensive Big Chief was built in rather limited numbers until 1953, when the factory's continuing financial difficulties caused its untimely demise. Never again will there be a motorcycle quite like the immortal INDIAN, one that symbolizes American history, our struggle for personal freedom, for a better world. It is a glorious vision that miraculously made it into production. The "Big Chief" is the unchallenged Emperor of Motorcycles!
Certain criteria determine a collector vehicle's value: rarity/availability, desirability, originality, condition, and the "matching numbers factor."
Click on any of the above images for a full-size view
"Matching numbers," for the INDIAN, refers to a motorcycle with identical last digits of the engine case number and the frame number (on the left rear spring pad), as is evident here. This is utmost important proof that the frame still carries precisely the engine it was equipped and delivered with, fifty-five years ago! Matching numbers also guarantee that the bike wasn't put together from a pile of non-related parts, which is often attempted, due to today's value of INDIAN tribe members.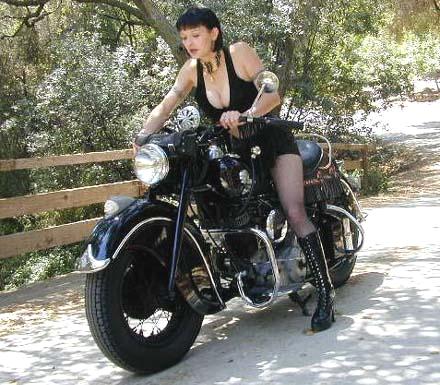 But, aside from its matching numbers, this is a very special bike, in more ways than one:
As a 1946 model, is a first year skirted Big Chief featuring the new double-spring girder fork with hydraulic shock absorber. It is the first of the last of the immortal Wigwam Chiefs.
It is as original as can be found, after more than half of a Century.
Being black with red pinstriping, it features a most desirable color combination.
It hails from the personal 100+ bike collection of noted Southland motorcycle collector, Mr. Ron Cearly.
This California survivor has benefitted from a sympathetic professional restoration.
Due to the immense importance of this last statement, please allow me to explain in greater detail.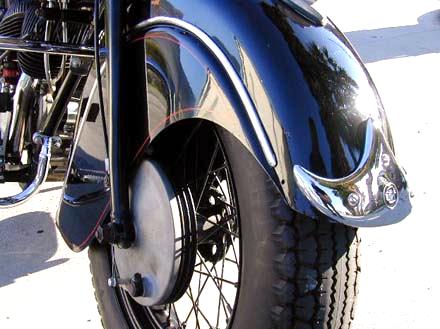 All too often (and quite erroneously) well-meaning but rather clueless novices assume a bike should look "better than new" when the restoration is finished. Popular mistakes include incorrect parts, a "chrome everything" mentality, and customizing. Truth is, restoration, by definition, is an attempt to transform something back to the condition it appeared to be when new. Back in 1946--one year after World War II ended--an INDIAN usually displayed no chrome wheels, no stainless steel spokes, no powder coating and most certainly no clear coat. Instead, one received nickel plating, lacquer paint, Bakelite, and other eclectic materials that are largely abandoned today.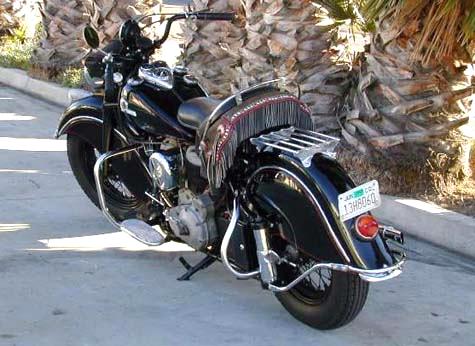 A perfectly restored '46 INDIAN Big Chief should therefore look like it was never restored; it should look like it has spent the past 55 years under a flannel cover in a quaint garage, started only during the mild season, ridden carefully and sparingly. Returning home, the oil would be changed, a light coat of wax applied, and the cover installed again. Allowed to age gracefully, it would display subtle signs of age with the pride of . . . well, a legitimate INDIAN Chief!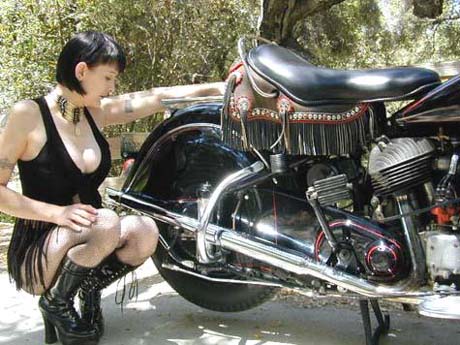 Let's have a closer look at this beautiful INDIAN, shall we?
After all, beauty is more than skin deep, so let's find out what makes her tick . . .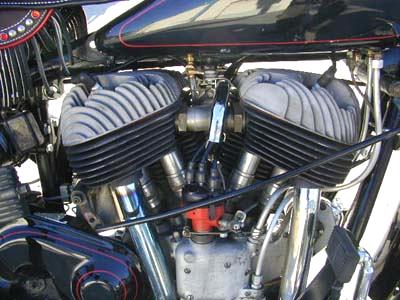 Click on the the above image for a full-size view
The Chief's original 73.62ci (1200cc) dual chamber heart is as healthy as the one of a six year-old. In 1995, it was completely rejuvenated by a reputable expert. Externally, it looks the way it did in 1946: correct cast surface on case and fins, black heads, dual brass petcocks, LINKERT carburetor, AUTOLITE spark plugs and generator and a tank-fed dry sump that provides the vital life juice, regardless of outside conditions. Internally, it is as fresh as one could wish for and ready for decades of fun ahead: a mere 308 miles have been covered since the--expensive-- heart surgery back in 1995. According to its former owner, the total amount spent on this motorcycle, including purchase and restoration, approached $28,000.00!
The engine generally starts at first kick--second kick if it has been sitting a while and you didn't get lucky--and runs like a SINGER sewing machine. A mechanical marvel, no doubt! Hard to believe that this is a side-valve engine; it runs superbly; keeping up with 'new Millennium' Evo or Two-Cam powered Harley Davidson big twins on the open road is an easy task.
| | |
| --- | --- |
| | |
Optional for 1946 was the chromed Raceway air cleaner. This one looks new. Exhaust is nearly as pristine, except for a dent to make a little extra room for the kickstarter's movement.
Chain guard with opening on bottom is consistent with late '46 built date. Battery is the correct 6-volt INDIAN unit. And, speaking of correctness, even the rubber on handlebars and brake pedal is from the N.O.S. INDIAN parts bin!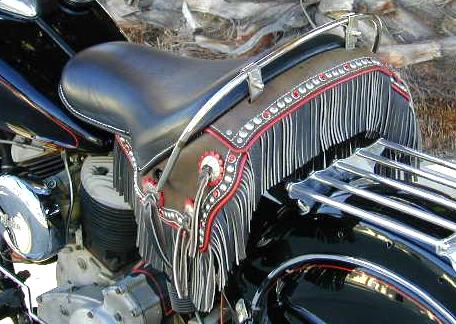 Naturally the best place on any INDIAN is the seat. The best saddle for an INDIAN Chief, by a wide margin, must be the jewelled, fringed, leather buddy seat!
Click on any of the above images for a full-size view
Prohibitively expensive, this one has been special-ordered from INDIAN specialist KIWI in Riverside, California, accompanied by a blank check and lots of patience. Made from prime saddle leather, it features the correct, nickel-plated seatrail and hardware and even the embossed Indian seal on the leather surface.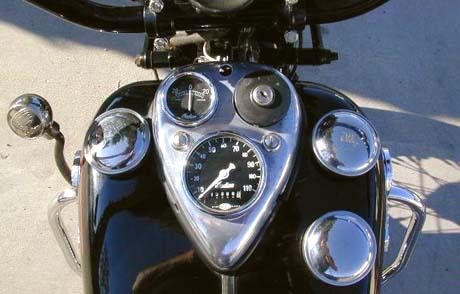 Once seated, with your favorite "buddy" holding on tight, you won't want to get off too soon, especially since you are looking at one of the most beautiful cockpits in the whole wide world of motorcycles!
Click on any of the above images for a full-size view
Grab that Indian-head shift knob, pull it back into gear and you'll ask yourself, why in the world did we abandon the tank shift despite it working so beautifully?
Note correct CORBIN speedometer, accompanied by the (equally correct) INDIAN ammeter in sensibly polished, teardrop shaped aluminum housing.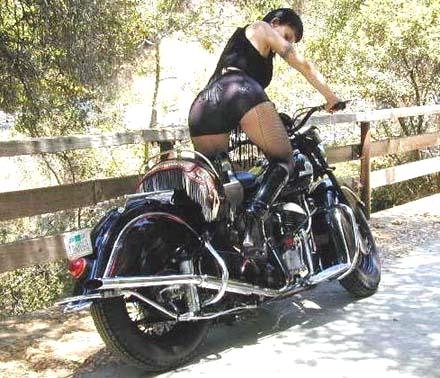 Well, this one isn't a trailer queen; she's made for riding. How does it feel, riding a real INDIAN in the year 2001?
Engine cold, you open the fuel petcock of your choice, then give it two easy priming kicks without ignition. Turn the ignition on, set the left-hand spark control to about three-quarters open, then give it your best shot. You don't need to be a gorilla to do this; our Squaw did it several times without any problems. Surprise, the engine's roaring to life!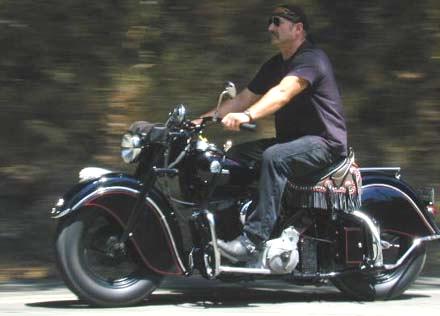 You engage the (very forgiving) wet oil clutch by stepping on it with your left foot, just like you would in your car or truck, pull the shift lever back into 1st gear, then feather the clutch and let it go while giving it more juice via the right hand throttle.
The INDIAN pulls forward with authority as you notice that you are the center of attention. Big time. Once you get the hang of it, you will find this fashion of engaging the gears addictive.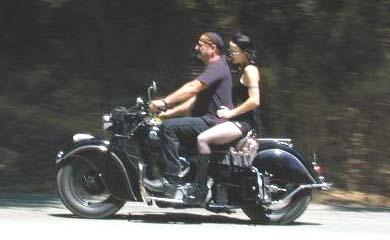 Soon, you'll find yourself riding with your right hand on the throttle, your left elbow resting on your left thigh, your left hand placed nonchalantly atop the tank. You pass a guy on a rice burner and he does a double take. You pretend not to notice and proceed to your favorite biker hangout. Park the bike and walk away. Then, watch the crowd gather around your dusty old INDIAN, oblivious to all the glossy new cycles.
Meet the Chief and make many new friends while you're at it!
Click on any of the above images for a full-size view
While the INDIAN is at rest, let's check it out more closely, shall we?
Although not 'overrestored' by any means, the professionally applied black paint has been carefully colorsanded and hand-rubbed before a true, old school artiste skillfully applied the pinstriping.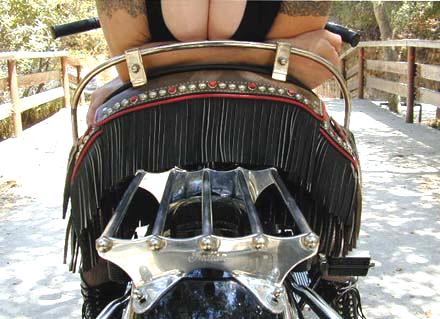 By the way, did you notice the rack? It's a period correct INDIAN accessory from the late '40s, made from lovingly polished aluminum!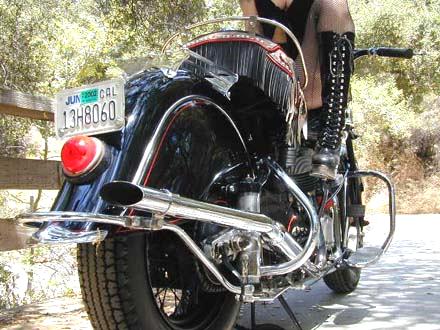 Your attention focused on the important stuff, you realize that when you straddle an INDIAN, crank 'er up, grab a handful, and pop the clutch, you're not just riding an old motorcycle, you're adding to the miles piled up by legendary figures of the game. You're part of a--very exclusive--club, along with Cannonball Baker, Von Dutch, R&R Whiting, and Iron Man Kretz.
Here is a golden opportunity to acquire one of the very best, period-correct examples of a legendary machine and ascend to the top echelon of All-American motorcycling. This is not an old Harley with its bone-jarring ride! Highly sophisticated and lightyears ahead of its rigid-framed contemporaries, an INDIAN Chief is well-suited for relaxed travel in utmost style and comfort.