During the renaissance of European-style sports car racing following WWII, ingenious American hot rodders--mostly schooled on the Southern California dry lakes--quickly discovered that they could beat popular imports such as the MG TC by stuffing big American V-8s into light chassis with custom two-seater bodies.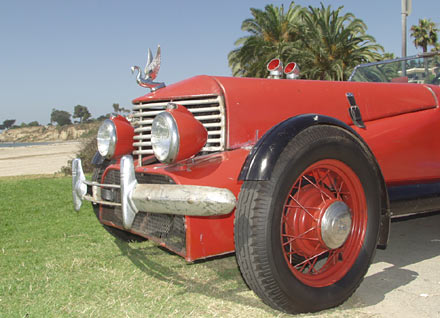 The '32 -'39 Ford chassis was a favorite for such modification. Plentiful, sturdy and race-proven, many a Ford-based special was created. Build yourself a sports car! Even popular magazines got in on the act: in the November 1951 issue of Mechanix Illustrated, the MI Sportster was introduced via a lengthy article.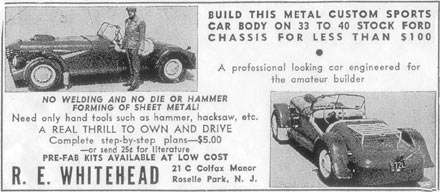 You just had to mail five crisp Dollar bills to New Jersey and, within days, you'd receive a manila envelope containing - a set of plans to build your own MI Sportster !

Click any of the scans (top and left) for a full size view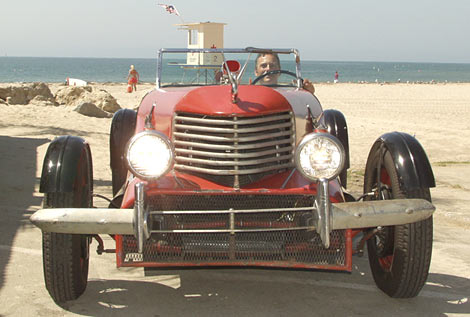 Designed by Bob Whitehead with help from the famous Frank Kurtis, the MI Sportster weighed a mere 1,000 lbs. With flathead V-8 power, it was fast!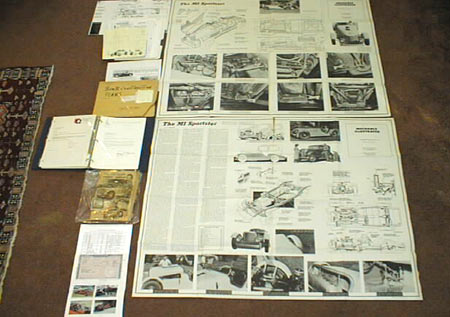 Click on the above image for a full size view
The original step-by-step plans, drawings, the Nov. '51 issue of Mechanix Illustrated, and a folder containing spec sheets and assorted correspondence accompany the car, irrefutably confirming its provenance.

The Deuce--VIN *18-55935*--is one of about eight MI Sportsters built in 1951/2 using Bob Whitehead's plans. Conceived as a road racer by Mr. Ken Lassen of Orange, CT and his cousin Roy, using a gennie '32 Ford frame, the car was extensively raced at Lime Rock, CT, where it was quite successful until the arrival of the first Cad-Allard. The car was subsequently sent to Santa Barbara, California, where it was stored in Mr. Lassen's barn for many years. Mr. Lassen, now 81 years old, has kindly confirmed the history of "The Bomb," as the car was affectionately called.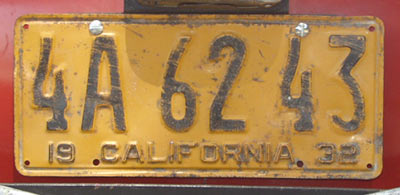 "The Bomb" comes with a clear California Certificate of Title and is properly registered as a 1932 Ford.
In California it can be driven with 1932 "Year of Manufacture" (Y.O.M.) license plates, if so desired. Y.O.M plate shown is included.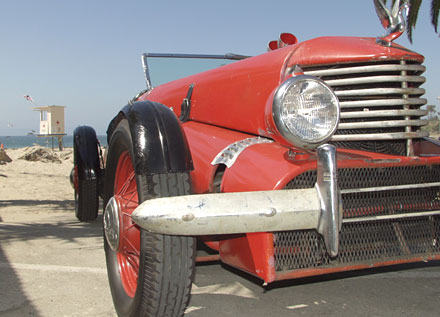 Interestingly, the MI Sportster's body was made of steel, hammered over electrical conduit tubing, with a '39 Plymouth top forming the rear deck. The seven grille bars were bent into shape around a rim, and other similarly exotic construction techniques were used.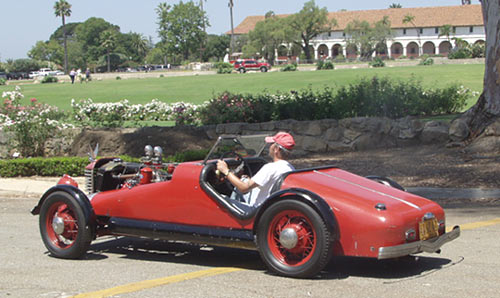 Everybody loves a nostalgic Hot Rod! With numerous copies of early-style rods and customs being built today by billet-weary rodders, it is a rare treat, indeed, to encounter the genuine article.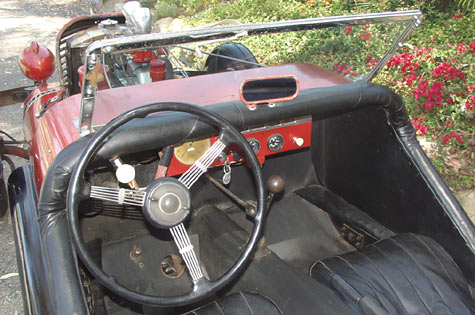 Dashboard is a happy potpourri consisting of a--working--1933 Ford speedometer, set of square 1940 Ford gauges and a couple of aftermarket dials. There's a 1937 Ford DeLuxe steering wheel with '32 horn button.
Check out the ingeniously simple floor shifter linkage for the '37 Ford tranny!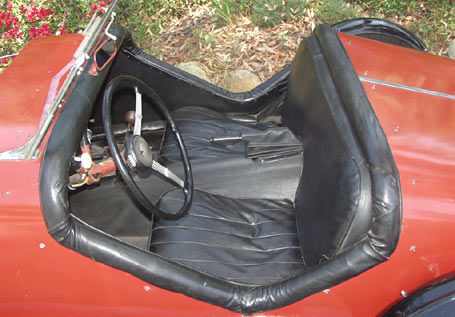 Seats are very comfy, still feature original black Naugahyde upholstery made from the skin of the elusive Nauga.
Click on any of the above images for a full-size view
Deuce's 1938 21-stud flathead engine makes any red-blooded American Hot Rodder's heart beat faster. Freshly rebuilt in 2002, she was balanced and massaged using the best ancient speed equipment available. Not only does she look mind-bogglingly beautiful, she also runs strong. A 3/4 ISKY cam stirs things up a bit, and dual 97 Strombergs with aluminum scoops on an Eddie Meyer Hollywood hi-rise intake manifold, fed by a BENDIX aviation pump, deliver the combustible mix to be squished by 30-over alloy pistons w/ new, file-fit rings.
The flattie's oiling system was lovingly modified to ensure superior pressure and better circulation of the lubricant. Note the external oil filter. A big '34 Ford radiator and special 6-Volt electric fan help to keep things cool.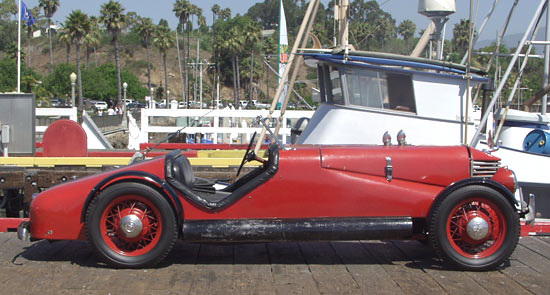 Since race cars were driven to the track on public roads in them ole days, "The Bomb" is in full street trim, with cycle fenders, horn, lights, and manual windshield wiper. She has just been lubed and serviced; starts and runs great.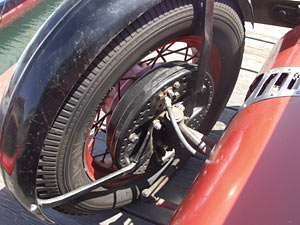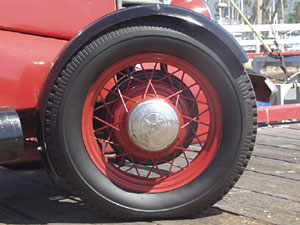 Click on the left image for a full size view
1935 Ford wire wheels wear a set of near new DENMAN tires of the dimension 5.25/5.50-17. Hydraulic brake system--from a '40 Ford--has just been completely overhauled for worry-free driving fun. Check out the drilled backing plates. Cool!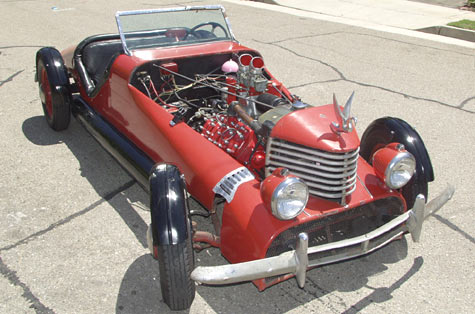 Looking for all the world like a fugitive from a 1950s Juvenile Delinquent movie, "The Bomb" features a '41 Lincoln Zephyr front bumper and '36 GM truck headlights. While her red-and-black paint job is old and patinated, mechanically, she's fresh and ready to go.
Let's take this wild '32 for a spin!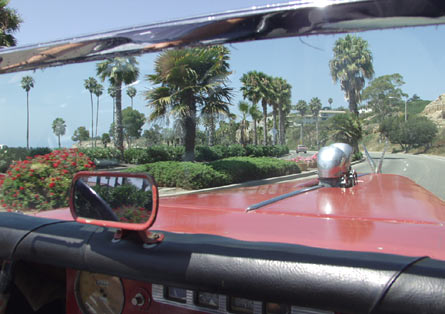 It's open-air motoring at its finest. A bonafied crowd pleaser, there'll be impromptu question-and-answer sessions wherever you go. The dropped '36 Ford front suspension with tube shocks works great. A '42 Ford axle keeps up the rear. Steering and brakes are better than you'd expect from an old Roadster. Due to its light weight, this flathead-powered Deuce really scoots!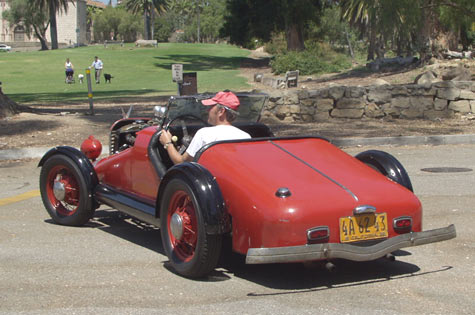 Turtledeck rear features '34 Ford bumper and '47 Chevy taillights.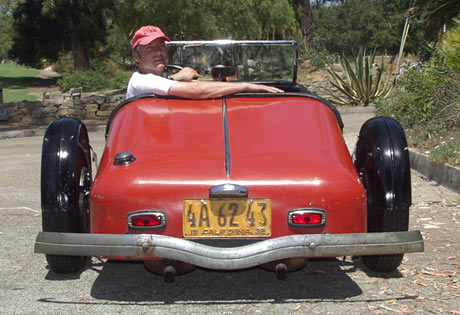 The Bomb, the famous Mechanix Illustrated MI Sportster is one of a mere handful of authentic Deuce Special Roadsters in existence. Undisturbed, the car survived more than half a Century. Featuring a rebuilt drivetrain, The Bomb is ready to be enjoyed with pride.
If you long to own a vintage Hot Rod, all original, with a road racing past, à la Ak Miller's El Caballero del Hierro, here's a unique opportunity. "The Bomb" is an irreplaceable part of automobile history, emerging victoriously from the exact point of confluence of Dry Lakes and USAC, European Sports Car racing and American DIY ingenuity.